Bear Valley, CA…After a forty-year hiatus, professional ski racing reappeared in Bear Valley Resort in the the form of the World Pro Ski Tour (WPST). The event consisted of two days of head-to-head racing on February 11th & 12th. It was deja vu all over again as top skiers once again found themselves on the technically challenging track of "Feather Duster". accurately referred to as one of, if not, the toughest race hill pro racers ever face. The likes of Jean Claude Killy, Billy Kidd, Spider Sabich and Hank Kashiwa, to name a few, have tested their mettle on this steeply benched piste; offering thrills and spills that pro ski racing provides spectators on the slope and in the comfort of one's home on TV. The recent race at Bear Valley was no exception!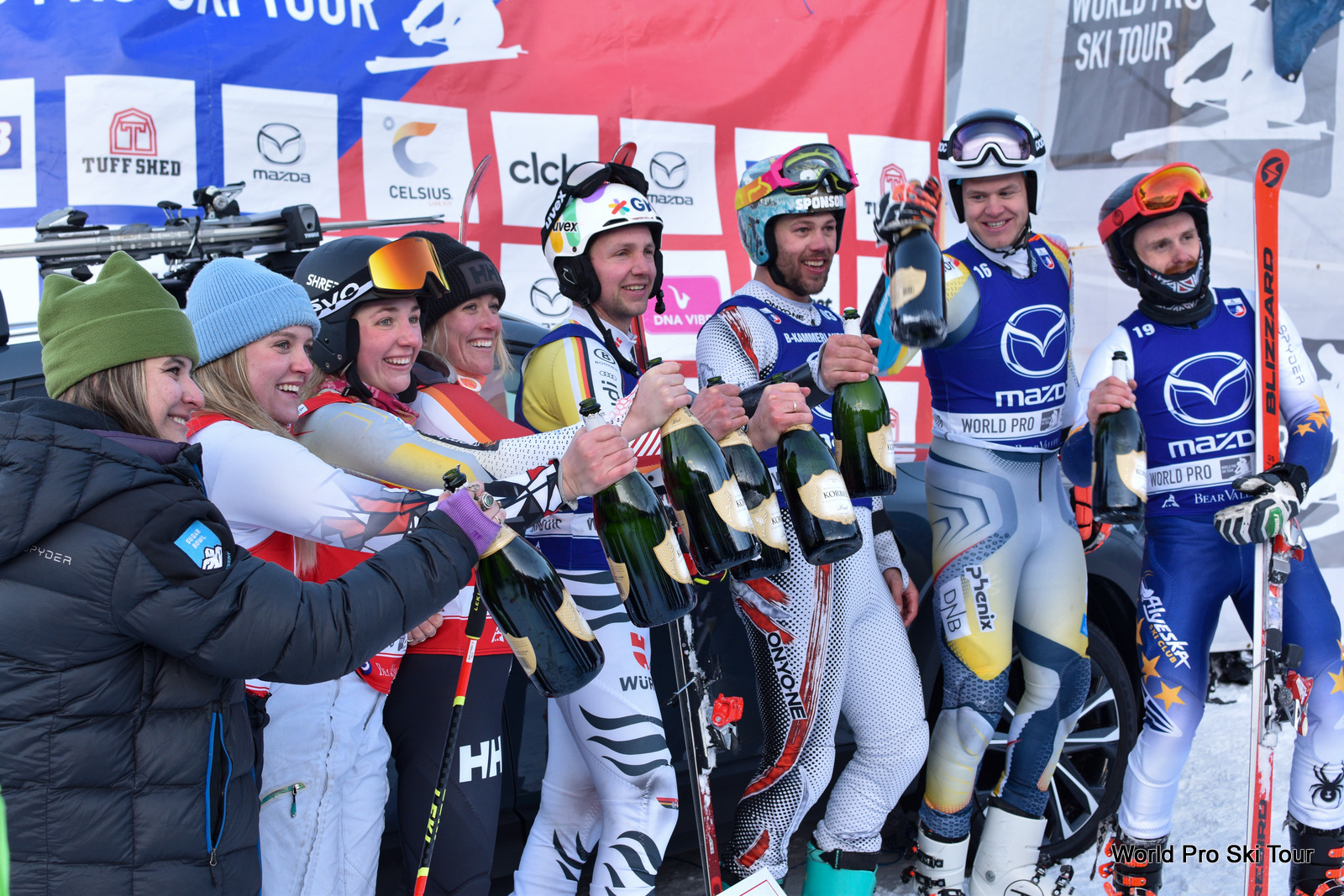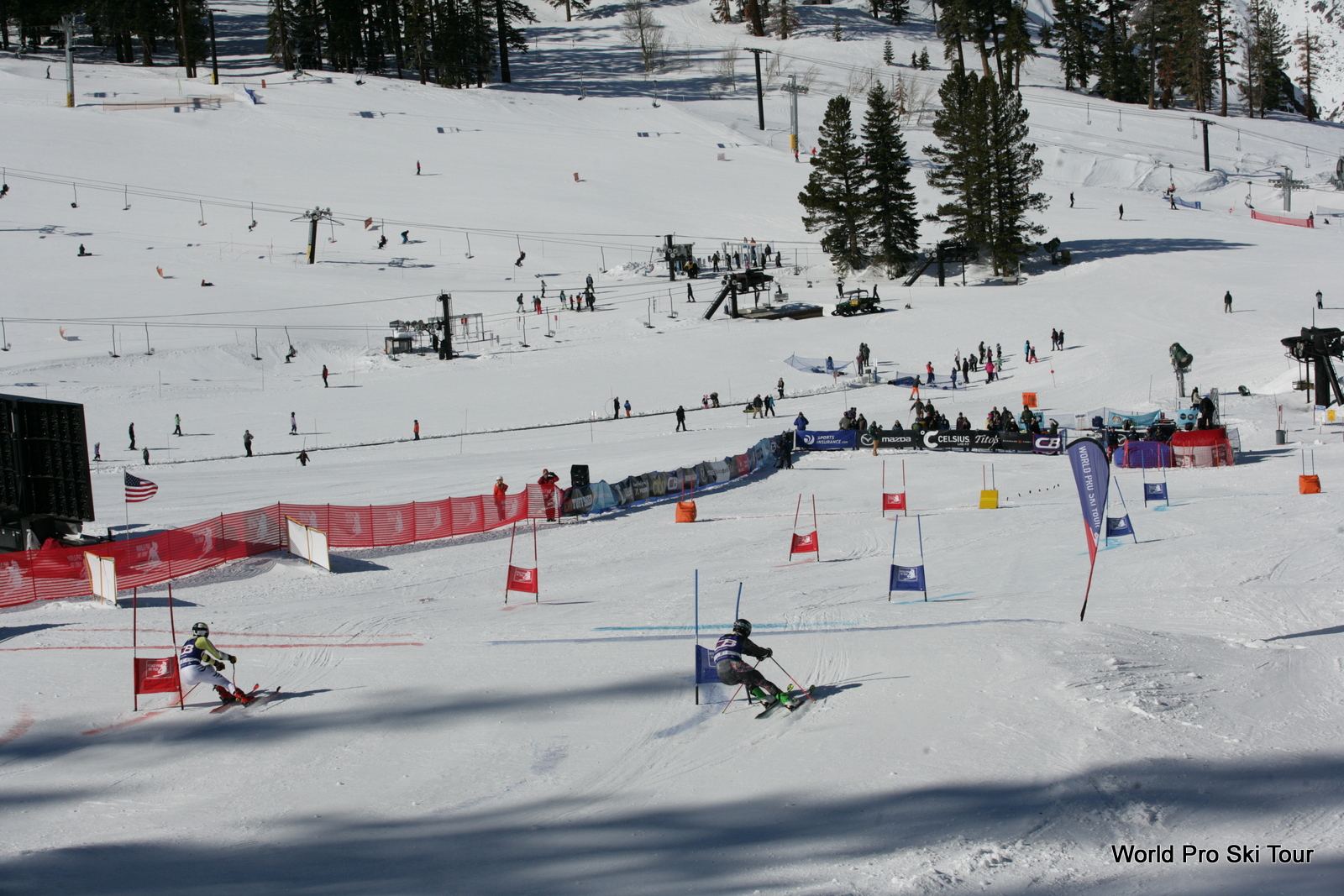 Race Qualifying Footage Starts at about 20 min the 20 min mark in the above video.
The one major deviation to this year's event was the addition of women competing on the same courses and same day as the men. Furthermore, they are competing for the same amount of prize money as their male counterparts…long over-due and is unique to many ski racing formats across the board of sanctioning bodies, like the F.I.S. (Federation Internationale du Ski). This year's contingent are comprised of ex-Olympians, National Teamers and collegiate ski racers of both genders.
One athlete of note is Erin Mielzynski. Erin is a 4x Olympian and World Cup slalom winner with multiple podiums and is fresh off the Canadian National Team. I had an opportunity to spend some time with her prior to Sunday's race. She told me that she really liked Bear Valley and that course was challenging and well-prepared and would be fair for all the competitors throughout the multiple runs pro racers must make to reach the Finals on each day of racing. This was Erin's second pro race but stated she really liked the flexibility of the racing while enjoying other personal and professional pursuits; unlike the rigid structure of competing and travel on the World Cup.
The flip side of Erin's racing career were two former Bear Valley ski racing athletes both racing on the Tour for the first time; Michelle Morozinski and Karl Arvidsson. They are great skiers in there own right and both had great results as junior ski racers in the Far West Division of the United States Ski Association before college and careers in the private sector tugged on on their speed suits. Both Michelle and Karl said their motivation to race on the pro tour events in Bear Valley was to have fun, see how they stack up against seasoned pros and possibly earn some prize money! I am happy to report both did. They also said they wanted to exit the weekend uninsured…Karl succeeded but I heard Michelle suffered a few tweaks. A speedy recovery to Michelle.
Even though the weather that weekend was windy and cold, the event was great to witness and I am personally gratified pro racing returned to Bear Valley. Not only did it bring back memories of prior pro races at Bear, it made an indelible impression on the current organizers and athletes that Bear Valley is a legit venue for ski racing…especially the head-to-head pro ski racing format.
I also had the opportunity to speak with World Pro Ski Tour CEO, John Franklin. Franklin intimated that they look forward to bringing the Tour back to Bear Valley next season. Of course, in the world of sports marketing and event production, the viability is tied to sponsorship and the equity packaging that appeals to both National and regional companies and organizations.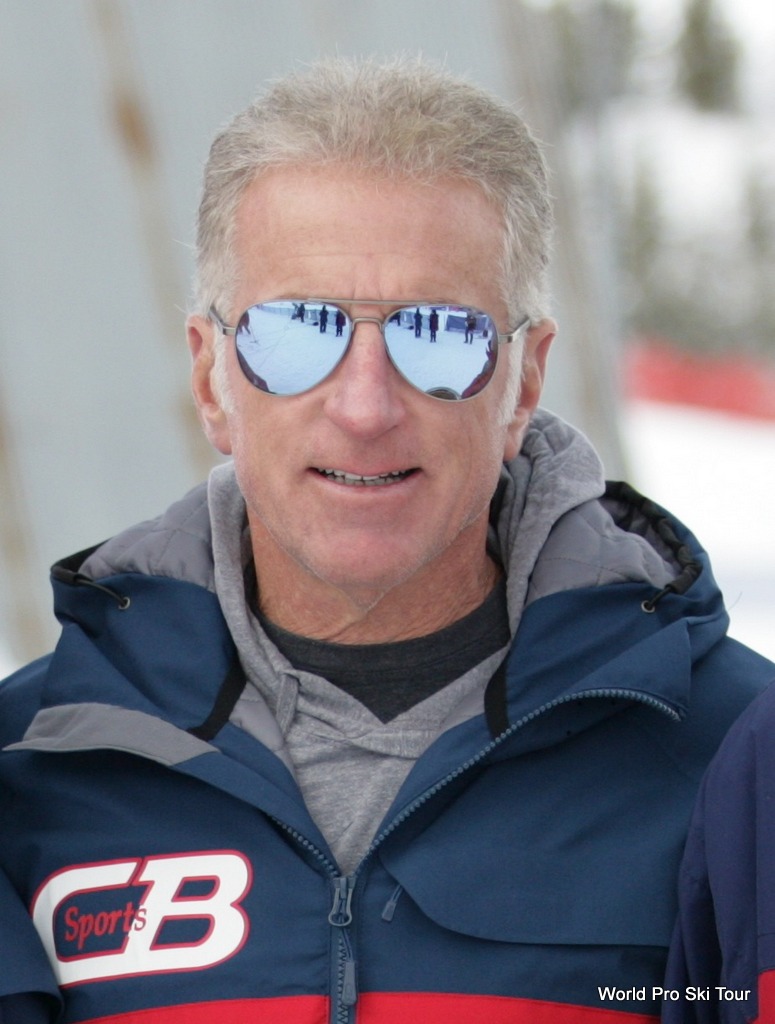 Franklin has the pedigree, having started his career with IMG…the big dog on the porch of global sports marketing companies. Franklin is up to the challenge and likens the WPST to NASCAR… home grown in America, exciting to watch and held at historic venues; while the World Cup might be more like Formula One. Fortunately the WPST makes both left AND right turns!
Mr. Franklin has a long and distinguished career in skiing and sports marketing and intimated he and the WPST is looking forward to Bear Valley to once again host "the white circus" in 2024 and beyond. 'Bear Valley did a great job for us and Feather Duster lived up to its reputation as a world-class pro racing venue", stated Franklin.
Bear Valley's Director of Operations, Tim Schimke, echoed the WPST sentiments in saying they are looking forward to next season and beyond, Experiencing something that feel happened before is both exciting and appropriate. Deja vu all over again!
####
2023 MAZDA FAR WEST PRO CLASSIC BEAR VALLEY, CA
February 11-12
Results are below…
OFFICIAL RESULTS Feb 11th
WOMEN – GIANT SLALOM DAY 1 FEB 11
OFFICIAL RESULTS
ERIN MIELZYNSKI
TUVA NORBYE
SONA MORAVCIKOVA
MICHELLE MOROZINSKI
MEN – GIANT SLALOM DAY 1 FEB 11
OFFICIAL RESULTS
DAVID KETTERER
SIMON KAMMERLANDER
JOACHIM LIEN
KIEFFER CHRISTIANSON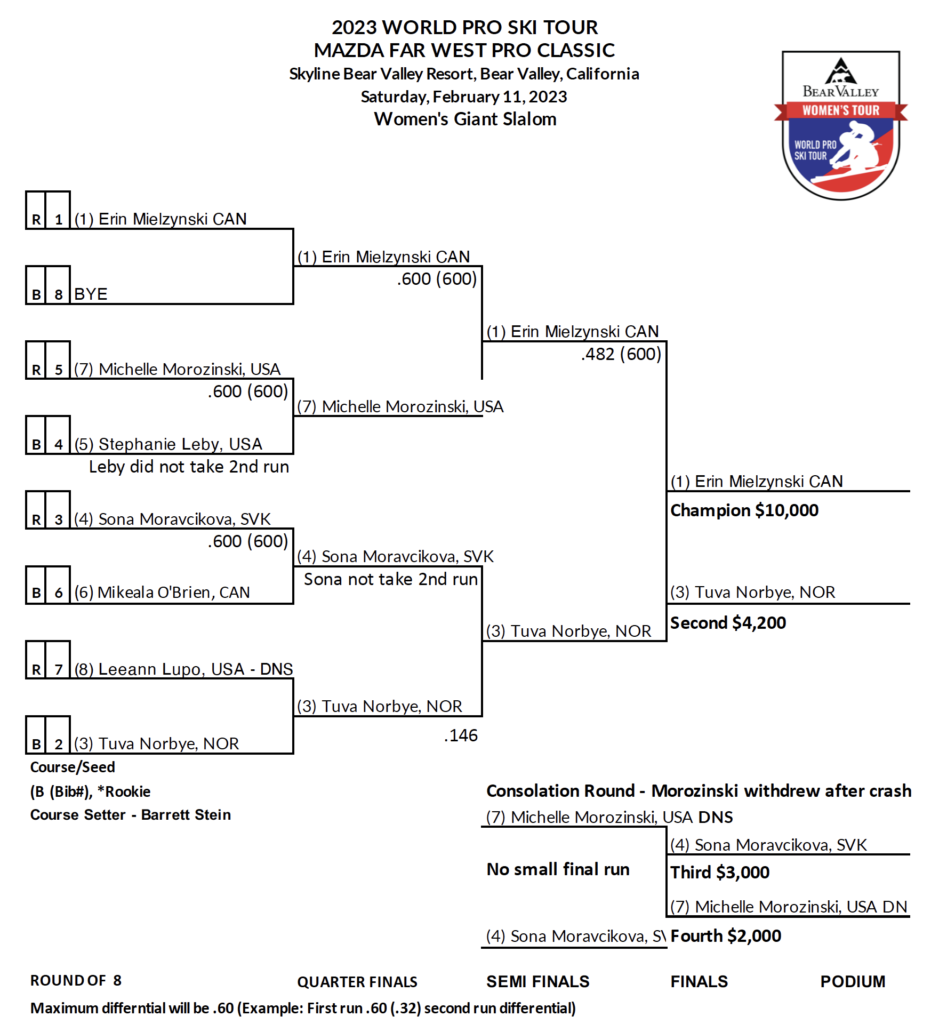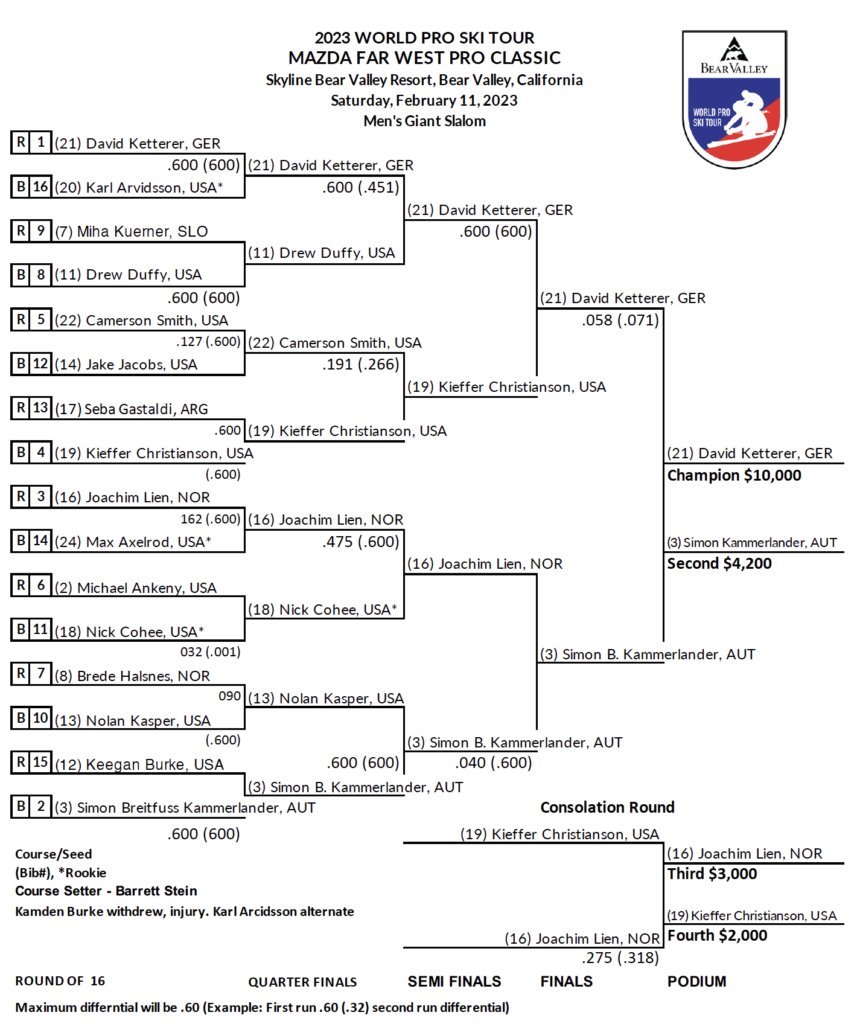 WOMEN – GIANT SLALOM DAY 2 FEB 12
OFFICIAL RESULTS
ERIN MIELZYNSKI
SONA MORAVCIKOVA
TUVA NORBYE
MICHELLE MOROZINSKI
MEN – GIANT SLALOM DAY 2 FEB 12
OFFICIAL RESULTS
DAVID KETTERER
SIMON KAMMERLANDER
NOLAN KASPER
DREW DUFFY