Angels Camp, CA…We get it – you want to schedule a girls day out but the sheer act of planning makes you want to scream. For you, my friend, we have a step-by-step plan: 
– Message the girls and give them three dates.: Hey girls, time to get together and do some day drinking. 7/9, 7/16, or 7/24? 
– Once you agree on the date, share the link with them to all go on and get their ticket
: https://goldrushtourcompany.com/build-your-tour/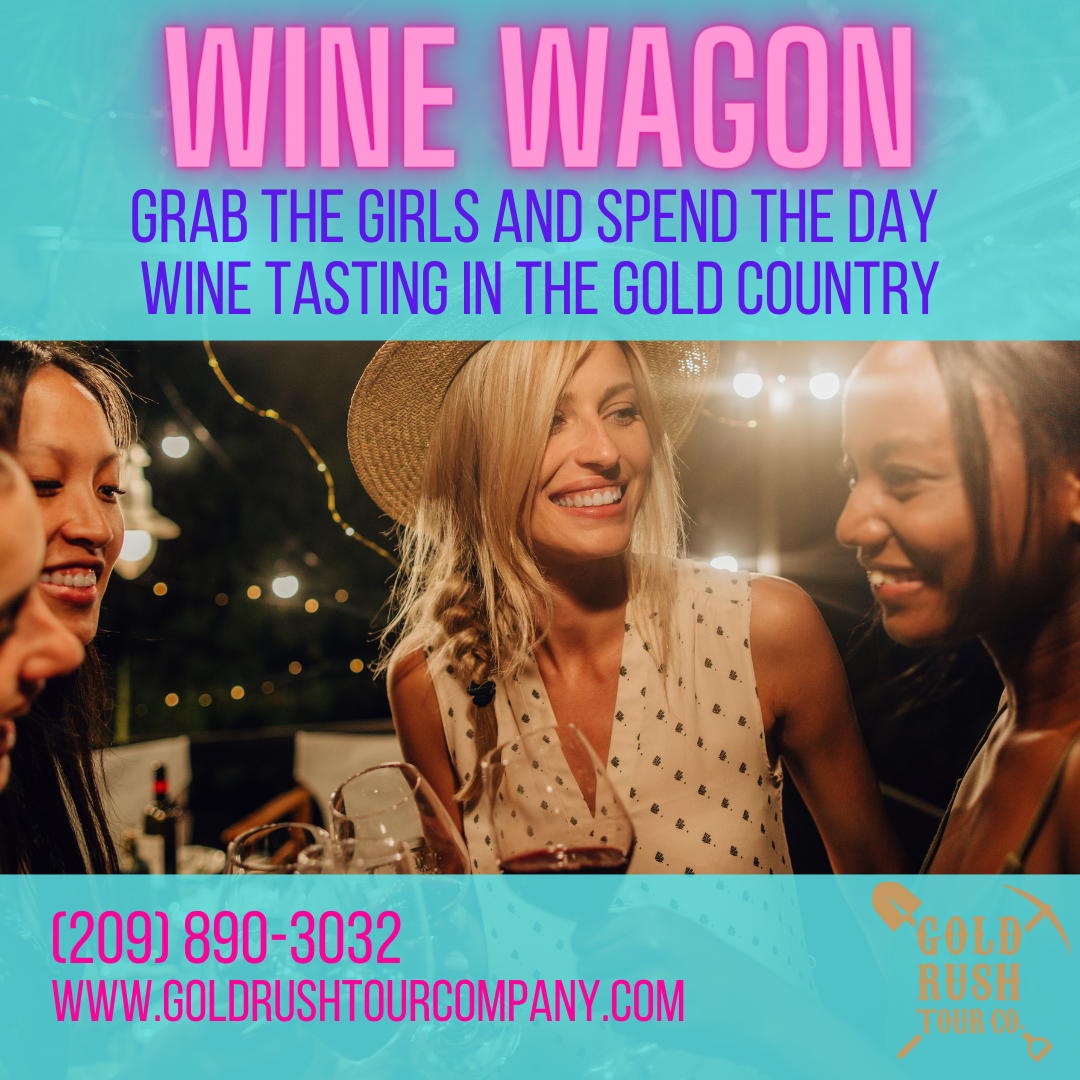 – Make sure all the girls booked
& and let your partner/babysitter/mom know they're in charge for the day and you'll bring them back a bottle of wine
as a thank you.
–
Show up at your requested pick up location, sip back & relax.
Follow us for more life hacks.
We will see you lovely ladies soon!
BUILD YOUR TOUR
Providing door-to-door service with a fully customized itinerary for you and your party of up to nine [per van]. If you are staying at a hotel, Airbnb or vacation rental, we can pick up anywhere in Calaveras, Tuolumne, or Amador Counties.
Whether you have specific places you want to see or you would like us to put a tour together for you – this is a great option for small groups. Whether you are looking for a more affordable option or an elevated experience, we can work with your budget to curate the perfect experience for you and your group.
SPECIAL EVENT TRANSPORTATION
We provide transportation for special events in the Central Sierra Foothills.
Concerts
Fairs
Festivals
Private Events
Corporate Events
WEDDING TRANSPORTATION
We provide wedding transportation services for your special day. Whether you are looking for a shuttle between different lodging locations and your venue, or from your ceremony to reception; we can handle the logistics of getting your guests there without worry.
Looking for an experience for your bridal party or guests to enjoy during their stay? Make sure to ask about our tours we can offer before or after you big day.
AIRPORT SHUTTLE
Now offering shuttle service to your group of up to 9 per van.
SFO
SMF
SJC
OAK
FAT
SF Port
And More!
Contact us for pricing from your location at (209) 890-3032.
TCP#PSG0041488