Angels Camp, CA…A Festive Array of Jazz, Hip Hop, and Contemporary Dances, Including Beloved Traditional Nutcracker Pieces December 15-17th".  Dancers from Studio 4 School of Dance will showcase their dance talent and various dance styles at the Holiday Showcase 2022. This year's production dance styles will include jazz, contemporary, hip hop and ballet. Studio 4 School of Dance (S4SD) and Studio 4 Dance Theater (S4DT) have a long history in Calaveras County of offering the community a glorious holiday production. In 2019, S4DT presented their 11th Annual "The Nutcracker". This December, the community will once again be able to enjoy select Nutcracker pieces at the Holiday Showcase 2022.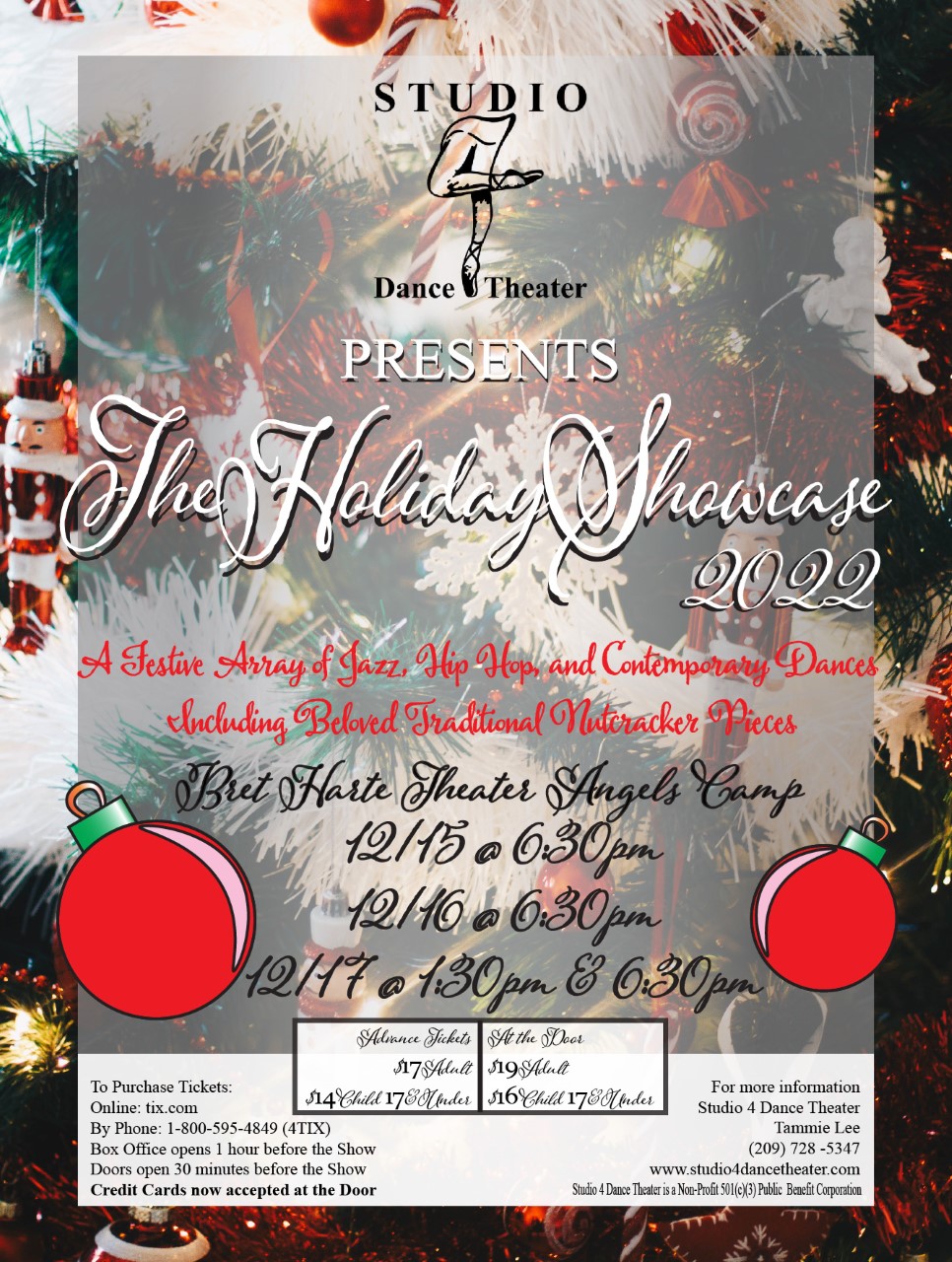 Artistic Director Tammie Lee has dedicated her life to providing dance instruction to Calaveras County dancers. In addition, Sarah Long, a dance instructor and choreographer, has joined Studio 4 teaching variety of classes including contemporary, jazz, and hip hop and directing the Holiday Showcase 2022.
S4DT is elated to be able to return to performing at the Bret Harte Theater and offering the performance once again to the community. This local holiday tradition has been missed by many.
Act I of the Holiday Showcase includes numbers choregraphed by Sarah Long and a jazz number choreographed by Senior Dancer Afton Phillips. Dancers will delight audiences as they perform jazz, hip-hop and contemporary dances to the holiday songs Jingle Bells, Joy to the World, Drummer Boy and more!
Act II of the Holiday Showcase features the beloved, traditional Nutcracker piece, Waltz of the Flowers, with the Sugar Plum Fairy, danced by Ashley Hancock and the Drew Drop Fairy, danced by Afton Phillips, and accompanied by three Rose Princess and thirteen Roses. In addition, Act II will also include the Spanish Chocolate, Chinese Tea Cookies, Peppermints, Arabian Spices, Reed Flutes, and Gingersnaps.
"I am so pleased that we were able to perform again in the Bret Harte Theater," said Director Tammie Lee. "We know the community has missed this holiday tradition, as have our dancers!"
The Holiday Showcase is made possible through parent volunteers and generous donations from the community. Donations come in various forms each year. Some were made directly to the dance theater, others donated items that will comprise raffle baskets.
What: The Holiday Showcase 2022, presented by Studio 4 Dance Theater, Artistic Director Tammie Lee and Director Sarah Long
When: 6:30pm, Thursday and Friday, December 15 and 16, 2022
1:30pm & 6:30pm, Saturday December 17, 2022
Where: Bret Harte Theater
323 Highway 49 (near Murphys Grade Road)
Angels Camp, CA
Tickets: Advance – $17 Adult / $14 Child (17 & under)
At the Door – $19 Adult / $16 Child (17 & under)
Tickets are currently on sale at https://studio4dancetheater.com/
For more information on the Studio 4 School of Dance and upcoming performances visit http://studio4schoolofdance.com/ or https://studio4dancetheater.com/ and follow on Facebook @Studio4SchoolofDance and @Studio4DanceTheater.
###
Event occurs on 12/15/2022 from 06:30 PM to .