Angels Camp, CA…The next "After Hours" Business Mixer on Wednesday, January 25, 2023, from 5 p.m. to 7 p.m. at the DAC/ACBA Office. We hope you can join us as we kick off the New Year. You are welcome to bring your spouse and/or management team to our Mixer.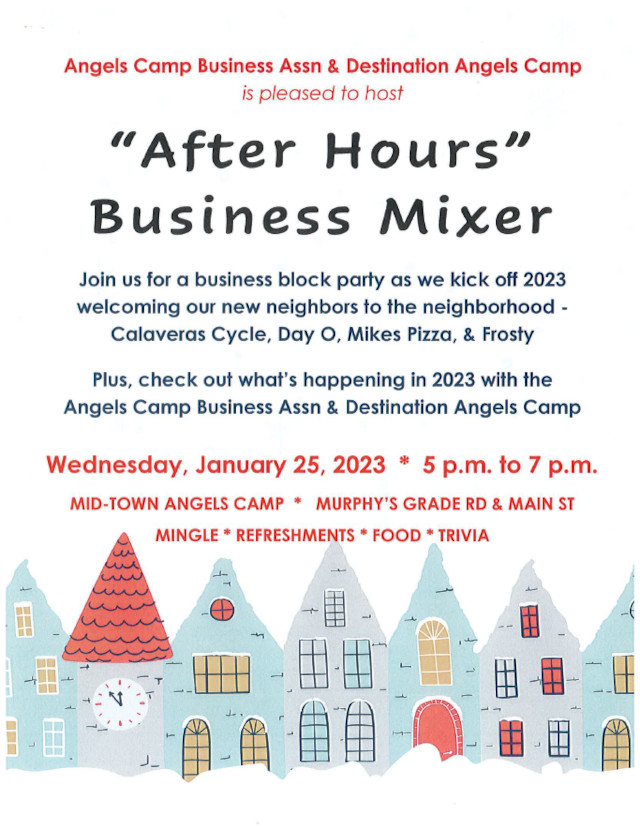 We are taking this opportunity to invite our DAC Advisory Council Members and ACBA Members to join in in a casual setting to mix and mingle and learn about each other. Our local area elected, and appointment officials have been invited to attend. We've also invited our "neighbors on the corner block" to join us as they are either a new business or purchased an existing business during Covid and thought this would be a nice way to welcome and introduce ourselves.
Dustin & Paul Ybarra – Mike's Pizza
Abdula "Mo" Mohammad – Frosty Angels Camp
Dan & Shelly Fontes – Calaveras Cycle
Benites Family – Day O Expresso
Food and beverage will be provided to fill our tummies, along with outdoor warming fires and a marshmallow roast to bring out the kid in us. Promise, no campfire songs. 😊
Let us know if you will join us or not as we are planning on catered food and would like to plan accordingly.
Thank-you,
Sandy Hegel
ACBA Chair, After Hour Mixers
Debbie Ponte
DAC Representative