San Andreas, CA… Frank is Your Pet of The Week! Meet FRANK (A055097), a short-haired brown tabby gentleman who is 13 years young. Frank really needs a home where he can be spoiled and pampered in his senior years. He is a total sweetheart and has a terrific personality and spirit––a favorite kitty among volunteers and staff. Frank is friendly, active, quite vocal–especially when he wants some attention–and thoroughly enjoys being petted and brushed. He also loves to explore and has no problem jumping to the top level of his perch.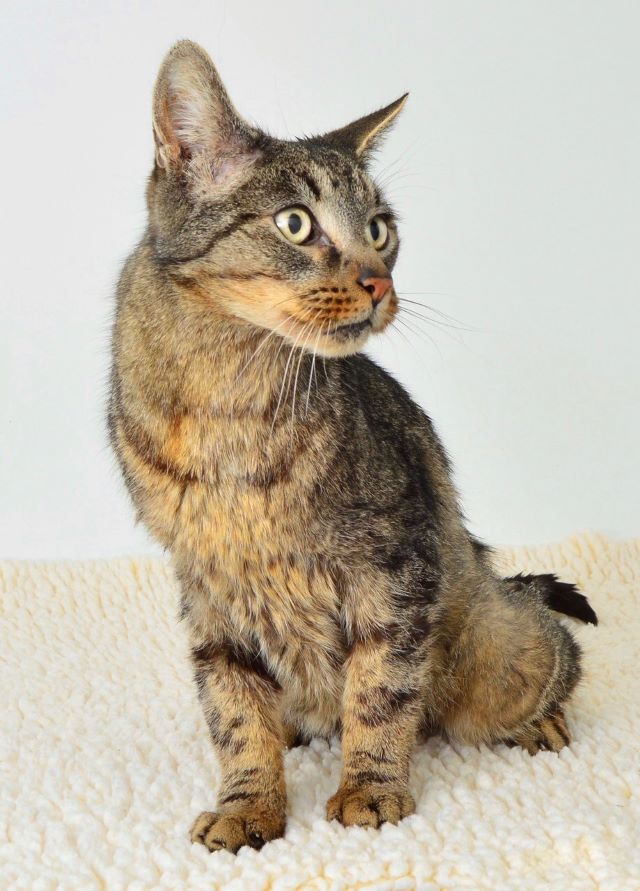 Frank arrived at the shelter as a stray. He had gum disease and dental problems that have since been treated by a vet. Although he is a senior, his blood work and various tests were within a normal range given his age. Frank is still a bit thin but has a hearty appetite. Because of tooth loss, he eats canned food and a very small amount of dry food. He has also shown interest in being with other cats.
Frank would be a wonderful friend for someone who wants a very loving, appreciative companion. Because of his special needs, Frank must be indoors only. He is already neutered, so he can go home with you right away.
Please use FRANK's intake number (A055097) when making inquiries at the shelter.
All cats available for adoption at the Calaveras Animal Shelter are up-to-date on their routine vaccinations and will be microchipped. All unaltered cats must be spayed or neutered before they can go home with you.
Animal Services now has a Fee Flexibility Program!
When the dog or cat population at the shelter is at 80% or above capacity, the total adoption fee will be 50% off––reduced to $40 for dogs and $30 for cats. The adoption fee for cats who arrive at the shelter already altered will be $10. With the 55-5-5 Program, any time an adopter is 55 or older and adopts any pet over 5 years old, the adoption fee is $5.
For more information about this kitty, please email Animal Services volunteer Cynthia at clpino@caltel.com, Kathy at Kbandy@co.calaveras.ca.us or call Animal Services directly at 209-754-6509
**************************************************************************************************************
Calaveras County Animal Services – 901 Jeff Tuttle Road, San Andreas – (209) 754-6509
Shelter and Office Business Hours are Tuesday – Saturday ~ 10 am – 1 pm & 2 – 3:30 pm ~ Closed for lunch from 1 – 2 pm
This announcement courtesy of
the Friends of Calaveras Animal Services (FOCAS)
and ThePineTree