San Andreas, CA…Meet Brownie (AO55324), an intact male Chocolate Labrador Retriever, estimated to be about 5 years old, and weighing 74 pounds. Brownie is eligible for our 55-5 senior discount program. Mr. Brownie was hit by a car. He is being treated by the vet and healing well. He is an affectionate dog, grateful for the loving care he receives. Brownie is a volunteer favorite and has good leash manners.  He is a mellow boy who is quiet in his kennel. Brownie has the qualities of an emotional support dog.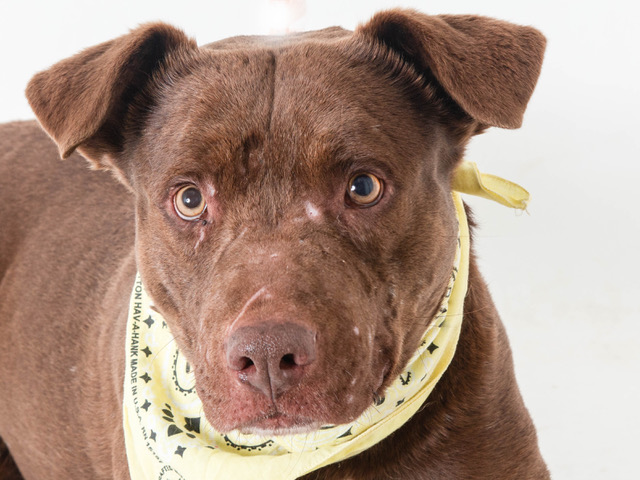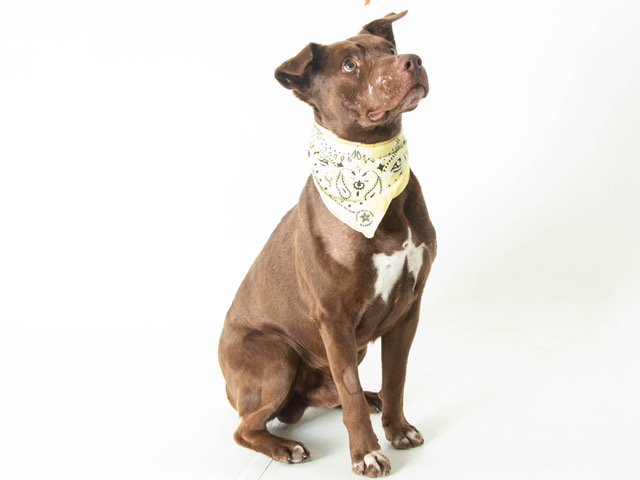 He is housebroken and he keeps his kennel clean. Brownie likes other dogs, males and females, large and small.
A meet 'n greet is required if you have another dog. Brownie will be neutered and have hernia surgery on 3/22. The shelter is making sure he is all set to join your family. Come meet him!
Contact : Calaveras County Animal Services (209) 754-6509
or Kbandy@co.calaveras.ca.us
Please use Brownie's intake number (AO55324) when making inquiries at the shelter.
All dogs available for adoption at the Calaveras Animal Shelter are up-to-date on their routine vaccinations and will be microchipped. All unaltered cats and dogs must be spayed or neutered before they can go home with you.
Animal Services now has a Fee Flexibility Program!
When the dog or cat population at the shelter is at 80% or above capacity, the total adoption fee will be 50% off––reduced to $40 for dogs and $30 for cats. The adoption fee for cats who arrive at the shelter already altered will be $10. With the 55-5-5 Program, any time an adopter is 55 or older and adopts any pet over 5 years old, the adoption fee is $5.
**************************************************************************************************************
Calaveras County Animal Services – 901 Jeff Tuttle Road, San Andreas – (209) 754-6509
Shelter and Office Business Hours are Tuesday – Saturday ~ 10 am – 1 pm & 2 – 3:30 pm ~ Closed for lunch from 1 – 2 pm
This announcement courtesy of the Friends of Calaveras Animal Services (FOCAS) and The Pine Tree
NOTE: FOCAS' first rabies and microchip clinic will be held on Saturday April 8 from 9-noon
at the San Andreas Government Center