San Andreas, CA…Yesterday, resources were out in the community monitoring damaged areas including Barney Way in West Point. No new damage was reported. Today, resources will continue to monitor, and the shelters in West Point and Mokelumne Hill remain open.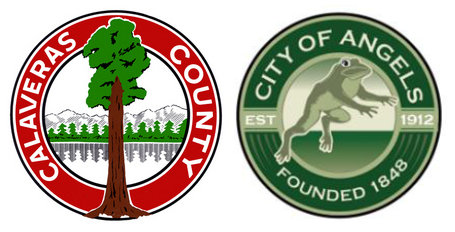 Today's weather forecast calls for clouds, then gradually becoming mostly sunny. Tomorrow calls for showers with south southeast wind 10 to 18 mph, and gusts as high as 29 mph. Chance of precipitation for tomorrow is 100% with thunderstorms possible from noon to 8 PM. Snow levels Tuesday will be 3000-5000 feet, and could be heavy at times. New snow accumulation of 4 to 8 inches possible.
Calaveras County Health and Human Services in coordination with the American Red Cross has opened two shelters to support community members who have chosen to evacuate the West Point area due to a potential debris slide. The shelters are open at the following locations:
• West Point Community Town Hall
22283 State Route 26
West Point, CA 95255
• Mokelumne Hill Elementary School
8350 State Route 26
Mokelumne Hill, CA 95245
Please refer to https://bit.ly/3n3T5tH for zones issued a warning in the West Point area. Currently Zone E006A, E0031A, E0033A are the only areas affected in this warning.
Additional shelter resources include:
• Small animals (dogs and cats) located at the Calaveras County Animal Services shelter 901 Jeff Tuttle Road, San Andreas 209-754-6866
• Large animals (livestock) to Calaveras County Fairgrounds 209-754-6866
The County's on online storm damage information portal and fillable forms are located at:
https://www.calaverasgov.us/Calaveras-County/Emergency-Operations
It is extremely important that owners and renters of residential and commercial properties document and report damages/costs they have incurred. This includes damage to private roads, culverts, retaining walls, etc.
Sandbag Locations
Please limit the number of sandbags to 10 per resident and remember to bring your own shovel.
• Arnold Library, 1065 Blagen Rd,
• Glencoe Maintenance Yard, 16151 Hwy 26 (Closes at 3:30pm)
• Jenny Lind Yard, 11558 Milton Rd. (Closes at 3:30pm)
• San Andreas Rd Yard, 891 Mt Ranch Rd. (Closes at 3:30pm)
• Mountain Ranch Community Center Parking lot next to the Public Safety Substation, 7869 Whiskey Slide Rd.
• Murphys Fire Station, 37 Jones St.
• Vista Del Lago Cul-De-Sac near Valley Springs Dental, 313 Vista Del Lago
• Mangili Rd. Cul-De-Sac at Valley Springs Sports and Fitness, 145 Mangili Rd.
• Copperopolis Fire Department, 370 Main St.
• Mokelumne Hill Fire, 8160 Church Street
• West Point Volunteer Fire Department, 195 Spink Rd.
• Angels Camp, sand and sandbags are available at 200 Monte Verda (behind the Police Department)
Road Conditions
Real-time road conditions in Calaveras County can be found at the CA Highway Patrol webpage at https://www.chp.ca.gov/traffic. Click the communications centers dropdown menu and select Stockton. Please be aware of road workers, utility crews, and first responders. For mobile devises, access the California Department of Transportation Quick Maps App with provides timely road information visit: http://quickmap.dot.ca.gov/mindex.html.
Remember to sign up for the County's Emergency Alert System at: https://member.everbridge.net/index/892807736729028/#/signup and visit the County's Emergency Operations webpage for detailed storm information at https://www.calaverasgov.us/Calaveras-County/Emergency-Operations
###