Sonora, CA…As previously reported on the Tuolumne County Fire Department social media pages, firefighters from CAL FIRE/Tuolumne County Fire Department rescued two residents in two separate fires within four days early this month in Tuolumne County.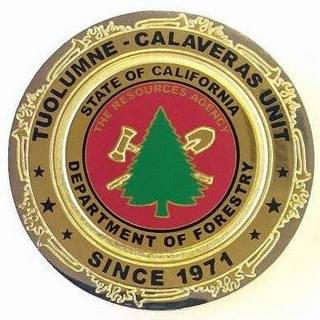 On Tuesday, March 7th, 2023, firefighters responded to a 6,700-square-foot residential structure fire on Hess Avenue in east Sonora, CA with two persons still in the home. The first arriving engine, TCFD Station 51 Mono Village Engine 511, was advised that two occupants remained in the home. TCFD Engine 513 (a FEMA SAFER grant-funded crew just staffed for the first time that same day) arrived seconds later, and fire crews immediately made entry to search for the occupants in the deteriorating conditions.
As the firefighters entered the building, they were met by a neighbor who was rescuing a resident from near the doorway. The search continued in zero visibility and the second resident was located several minutes later in a bedroom behind a closed door. CAL FIRE/TCFD firefighters carried the victim out of the burning building through increasing fire activity and severely reduced visibility. Tuolumne County Sheriff's Office (TCSO) deputies received the resident from the firefighters just outside the building and assisted them to the waiting Tuolumne County
Ambulance. The assistance of both the community member and TCSO allowed firefighters to quickly return to contain and control the fire.
Ultimately, seven residents were evaluated by paramedics at the scene. Fortunately, no patients suffered injuries that required transport to the hospital, largely because the residents had working smoke detectors and ensured the bedroom doors were closed. Additionally, the assistance of local fire agencies through previously established automatic and mutual aid agreements proved vital in containing this challenging incident.
On Saturday, March 11th, 2023, during severe weather that included a nearby EF-1 tornado, sheer winds, torrential downpours, and flash flooding, firefighters were dispatched to a report of powerlines down and a possible unknown type of fire at the Woods Creek Mobile Home Park in Jamestown.
The first arriving unit, TCFD Engine 553 (E553 – staffed with CAL FIRE/TCFD firefighters as part of a CAL OES strike team prepositioned for the predicted severe weather) discovered a residence, whose access was impacted by flash flooding and powerlines down, was involved with fire. The next arriving engine, TCFD Station 76 Jamestown Engine 761 (E761) arrived and firefighters discovered there were two occupants inside the building. Firefighters entered the burning home and performed a search for the occupants through extremely dangerous and smoky conditions. Firefighters located and rescued one resident that was overcome with smoke from the burning home and the second resident was able to leave the building through another exit. Both residents were assessed and transported to a local hospital by Manteca District Ambulance – Tuolumne County Division (TCAS). Firefighters continued to be challenged by the extreme
weather event but were able to quickly contain the fire through their aggressive initial attack.
In addition to the volunteer and career TCFD staff that responded to these incidents, other agencies that assisted in one or both incidents included CAL FIRE Tuolumne-Calaveras Unit, Twain Harte CSD Fire Department, Mi Wuk Sugar Pine Fire Protection District, Tuolumne Fire District, Modesto Fire Department, Columbia Fire Protection District, City of Sonora Fire Department, Tuolumne County Sheriff's Office, and the Manteca District Ambulance – Tuolumne Division.
Having the additional career-staffed fire engines available through the FEMA SAFER Grant and through the CAL OES pre-position authority allowed the firefighters to have an effective and immediate response force on the scene quickly to perform search and rescue efforts while also initiating command and control to contain these fires without spreading to exposures.
The messaging that your fire departments do about ensuring working smoke detectors, knowing a way out, having a pre-determined meeting point, and keeping your interior doors closed at night, all played a part in both of these incidents. Please, now, check your smoke detectors to ensure they're working; practice your way out of your home as if there was a fire and actually take your family to the meeting point; and lastly, keep your bedroom doors closed at night. As these two incidents show, these simple things can save your life.
For more information, go to:
https://www.tuolumnecounty.ca.gov/1491/Our-Department
https://www.facebook.com/people/Tuolumne-County-Fire-Department/100066498952885/
https://www.instagram.com/tuolumnecountyfire/
https://www.fire.ca.gov/
https://www.nfpa.org/Public-Education