Arnold, CA…Hinterhaus Distilling, the award-winning craft distillery in the Sierra Nevada, will be releasing the brand's first American Single Malt Whiskey on May 27, 2023.  Hinterhaus American Single Malt Whiskey is distilled in small batches using thoughtfully sourced, high-quality California-grown barley of varying malt bills.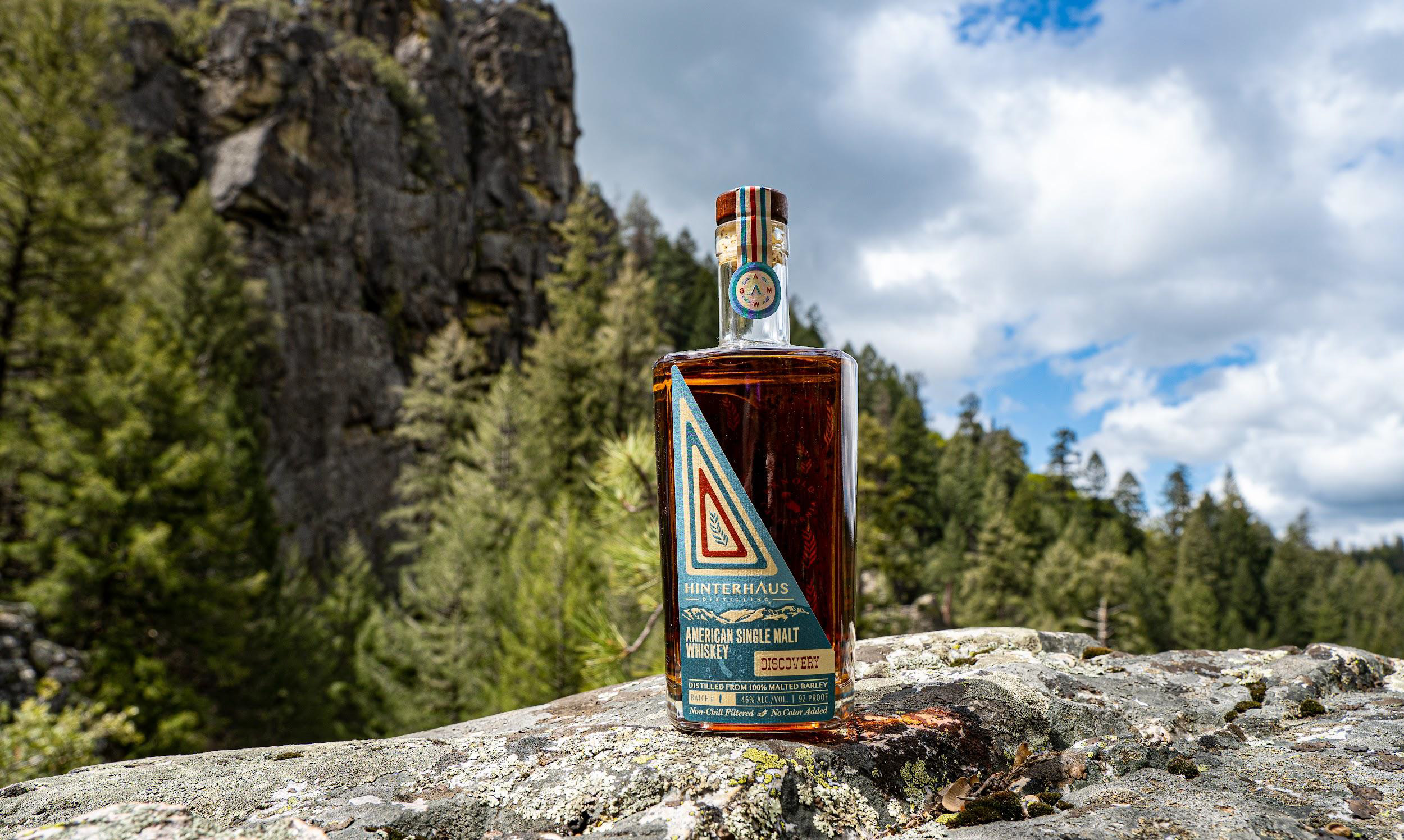 Open fermentation along with the use of the distillery's fresh Sierra water captures the character of the rugged region while climate and elevation nurture unique tasting attributes. Batch 1 is a limited release that features a blend of six (6) malts from northern California farms: Gallagher's Best, Kilnsmith, Pacific Victor, California Spirit, Admiral's
Hearth, and Midway. Each one was expertly malted by Admiral Maltings in Alameda, California.
"Our goal with everything we produce is to highlight the amazing area we live in and provide our patrons with a sense of place and provenance they can nose and taste," says Hinterhaus co-Founder and Head Distiller Nate Randall. "Our single malt is an exciting opportunity to showcase the impact that high-quality local grain can have on a whiskey."
True to the distillery's ethos in transparency, the breakdown of the malt percentages along with cooper, casks, and age statement can be found on the back of each bottle of the Discovery Series.  This product is a journey of discovery in single malt whiskey and each batch will stand on its own merit while highlighting unique flavors from the varying
malts employed.
Bottles will be available at the distillery, on the distillery's website for shipping throughout California, and at select retailers.
ABOUT HINTERHAUS DISTILLING
Founded in 2020 by husband and wife team Nate and Bonnie Randall, Hinterhaus Distilling reflects the rugged mountainscape of its Sierra Nevada perch and benefits from high-quality local ingredients while embracing transparency in all of its products. Hinterhaus sits in the tourist destination of Arnold, CA, in the Sierra Mountain Range, at an elevation of 4300ft.
Abundant alpine recreation entices visitors from around the world to the area, while fresh Sierra snowmelt provides the perfect water for processing their spirits. Hinterhaus collaborates with a variety of local and regional partners to
showcase their neck of the Sierra including wine barrel-finished bourbons from nearby foothill wineries, grape distilled vodka and gin, and American single malt whiskies from local northern California grown and malted barley.
The distillery leverages a hybrid pot still with an accompanying 20-plate column and a vapor infusion gin basket to craft a variety of spirits. It utilizes open fermentation, and barrel ages in its unique mountain climate that sees hot and dry weather in the summer along with cold and wet winters.
Its on-site bottle shop, tasting & cocktail room, and branded gear mercantile welcome patrons into a modern mountain escape and offers views into the production space. Hinterhaus Distilling is a proud member of the American Single Malt Whiskey Commission, the American Craft Spirits Association (ACSA), and the Craft Malt Guild (CMG). Hinterhaus spirits have garnered attention nationally by earning top spots in competition from the American Distilling Institute, American Craft Spirits Association, Sunset Magazine, Wine Enthusiast, and more. Hinterhaus was featured on a PBS documentary, American Grown, titled 'Ag-daptation' in 2021.
FOR MORE INFORMATION
https://www.hinterhausdistilling.com/