Oakland, CA…California becomes the largest geographic area and the largest economy to sue giant oil companies. Joined by California Governor Newsom, California Attorney General Rob Bonta today announced the filing of a lawsuit against five of the largest oil and gas companies in the world — Exxon Mobil, Shell, Chevron, ConocoPhillips, and BP — and the American Petroleum Institute (API) for allegedly engaging in a decades-long campaign of deception and creating statewide climate change-related harms in California. Filed in San Francisco County Superior Court, the complaint asserts that although the companies have known since at least the 1960s that the burning of fossil fuels would warm the planet and change our climate, they denied or downplayed climate change in public statements and marketing. As detailed in the complaint, California has spent tens of billions of dollars to adapt to climate change and address the damages climate change has caused so far, and the state will need to spend multiples of that in the years to come. Attorney General Bonta, on behalf of the people of California, is seeking nuisance abatement through the creation of a fund to finance climate mitigation and adaptation efforts; injunctive relief to both protect California's natural resources from pollution, impairment, and destruction as well as to prevent the companies from making any further false or misleading statements about the contribution of fossil fuel combustion to climate change; damages; and penalties.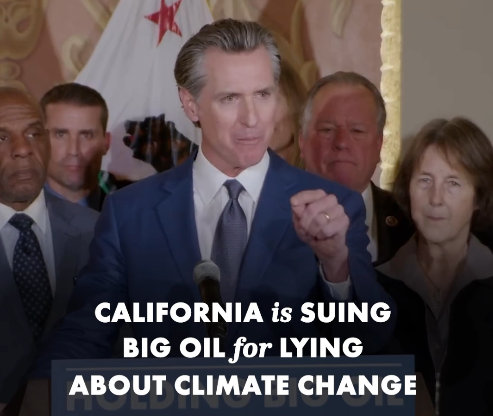 "Oil and gas companies have privately known the truth for decades — that the burning of fossil fuels leads to climate change — but have fed us lies and mistruths to further their record-breaking profits at the expense of our environment. Enough is enough," said Attorney General Rob Bonta. "With our lawsuit, California becomes the largest geographic area and the largest economy to take these giant oil companies to court. From extreme heat to drought and water shortages, the climate crisis they have caused is undeniable. It is time they pay to abate the harm they have caused. We will meet the moment and fight tirelessly on behalf of all Californians, in particular those who live in environmental justice communities."
"For more than 50 years, Big Oil has been lying to us — covering up the fact that they've long known how dangerous the fossil fuels they produce are for our planet," said Governor Gavin Newsom. "California taxpayers shouldn't have to foot the bill for billions of dollars in damages — wildfires wiping out entire communities, toxic smoke clogging our air, deadly heat waves, record-breaking droughts parching our wells. With this lawsuit, California is taking action to hold big polluters accountable and deliver the justice our people deserve."
The complaint contains extensive evidence demonstrating that the defendants have long known about the catastrophic results caused by the use of fossil fuels. For instance, in 1968, API and its members received a report from the Stanford Research Institute, which it had hired to assess the state of research on environmental pollutants, including carbon dioxide. The report stated: "Significant temperature changes are almost certain to occur by the year 2000, and . . . there seems to be no doubt that the potential damage to our environment could be severe." In 1978, an internal Exxon memo stated that "[p]resent thinking holds that man has a time window of five to ten years before the need for hard decisions regarding changes in energy strategies might become critical." More recently, the defendants have deceptively portrayed themselves and their products as part of the climate solution. For example, Shell claims online that it aims to become a net-zero emissions energy business by 2050, and that it is "tackling climate change." However, Shell's CEO told the BBC on July 6, 2023 that cutting oil and gas production would be "dangerous and irresponsible."
The complaint includes the following causes of action:
Public nuisance: Under California law, a "nuisance" is "anything which is injurious to health," and a "public nuisance" is "one which affects at the same time an entire community or neighborhood, or any considerable number of persons." The complaint alleges that all the defendants, by their deceptions, acts, and omissions, have created, contributed to, and assisted in creating harmful climate-related conditions throughout California.
Damage to natural resources: California law authorizes the Attorney General to take legal action to protect the state's natural resources "from pollution, impairment, or destruction." The complaint alleges that the misconduct by all the defendants has served to exacerbate the climate crisis in California, and has led to the pollution, impairment, and destruction of California's natural resources.
False advertising: California law prohibits untrue and misleading advertising in connection with the disposition of property or services. The complaint alleges that all defendants, with the intent to induce members of the public to purchase and utilize fossil fuel products, made misleading statements concerning fossil fuels.
Misleading environmental marketing: Under California law, "[i]t is unlawful for a person to make an untruthful, deceptive, or misleading environmental marketing claim, whether explicit or implied." The complaint alleges that all defendants have made environmental marketing claims that are untruthful, deceptive, and/or misleading, whether explicitly or implicitly.
Unlawful, unfair, and fraudulent business practices: California law prohibits unlawful, unfair, or fraudulent business acts or practices. The complaint alleges that all defendants committed unlawful acts by, among other things, deceiving the public about climate change and affirmatively promoting the use of fossil fuels while knowing that fossil fuels would lead to devastating consequences to the climate, including in California.
Products liability (strict and negligent): The complaint alleges that, as a result of the defendants' failure to warn about the climate-related harms related to the use of their products, California has sustained a plethora of injuries and damages, including to state property, state infrastructure, and its natural resources.
In addition to filing the lawsuit announced today, Attorney General Bonta has supported states and municipalities that have filed their own complaints to hold major fossil fuel-producing companies accountable for their campaign of deception that has worsened the climate crisis. In August and September 2021, Attorney General Bonta filed amicus briefs supporting such efforts by the City of Honolulu and the County of Maui; the City of Baltimore; the state of Rhode Island; and the State of Minnesota. On April 7, 2023, he filed an amicus brief in the District of Columbia Court of Appeals in support of the District of Columbia's efforts. On May 12, 2023, he led a multistate coalition in filing an amicus brief in the Ninth Circuit Court of Appeals supporting the efforts by the City of Oakland as well as the City and County of San Francisco.
Since taking office in 2021, Attorney General Bonta has been a national leader in efforts to protect the environment. On April 28, 2021, he announced an expansion of the California Department of Justice's Bureau of Environmental Justice – the first of its kind in a state attorney general's office. On April 28, 2022, he announced an investigation into the fossil fuel and petrochemical industries for their role in causing and exacerbating the global plastics pollution crisis. On November 10, 2022, he announced a lawsuit against major manufacturers of per- and polyfluoroalkyl substances — commonly referred to as PFAS or toxic "forever chemicals" — for endangering public health, causing irreparable harm to the state's natural resources, and engaging in a widespread campaign to deceive the public.
A copy of the lawsuit can be found here.
"#ffffff"