Columbia, Calif.— Columbia State Historic Park will host Boo Boulevard on Saturday, October 28, 2023 from 2 p.m. to 6 p.m. Enjoy safe trick-or-treating down historic Main Street. Lots of fun and family friendly activities. Costumes are encouraged for "kids" of all ages. Come join the costume parade and contest. Win prizes in categories such as junior, historical, handmade, funny, scary, fantasy, couples, and family. Have fun searching for our hidden gargoyles throughout the park in "gargoyle quest", try our fishing game, participate in the Jack O'Lantern contest and spin a web at arts and crafts. This event is sponsored by the Friends of Columbia State Historic Park and the Columbia Chamber of Commerce.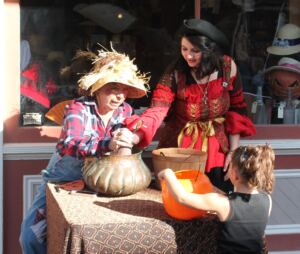 WHAT: Boo Boulevard
WHEN: Saturday, October 28, 2023 from 2 p.m. to 6 p.m.
2 – 4 p.m. Trick or Treating
2 – 6 p.m. Creepy Crafts & gargoyle Quest
4 – 5 p.m. Parade
5 – 6 p.m. Costume and Jack O'Lantern Contest
WHERE: Main Street, Columbia State Historic Park
COST: Admission is FREE
For more information about the park and upcoming events, please visit www.parks.ca.gov/columbia, or Facebook / Instagram.
Columbia State Historic Park, located in Tuolumne County, is designated a National Historic Landmark District. Unlike many Gold Rush settlements that disappeared due to fire, vandalism and time, Columbia survived. The community was never completely deserted, and in 1945, the State Legislature made the site a State Historic Park in order to preserve a typical Gold Rush town and share the impact the Gold Rush made in California.
Columbia State Historic Park is a major tourist destination in Tuolumne County. The Park includes more than twenty concessionaires whose businesses keep the Gold Rush merchant story alive.
###