San Andreas, CA…Meet Pixie, a lovely short-haired, spayed brown tabby female who is about 2 years old. A good Samaritan found her with a severe injury and took her to a veterinarian where she underwent emergency surgery. Pixie has now fully recuperated. She comes to you with her very own tent, where she loves to pretend she's invisible.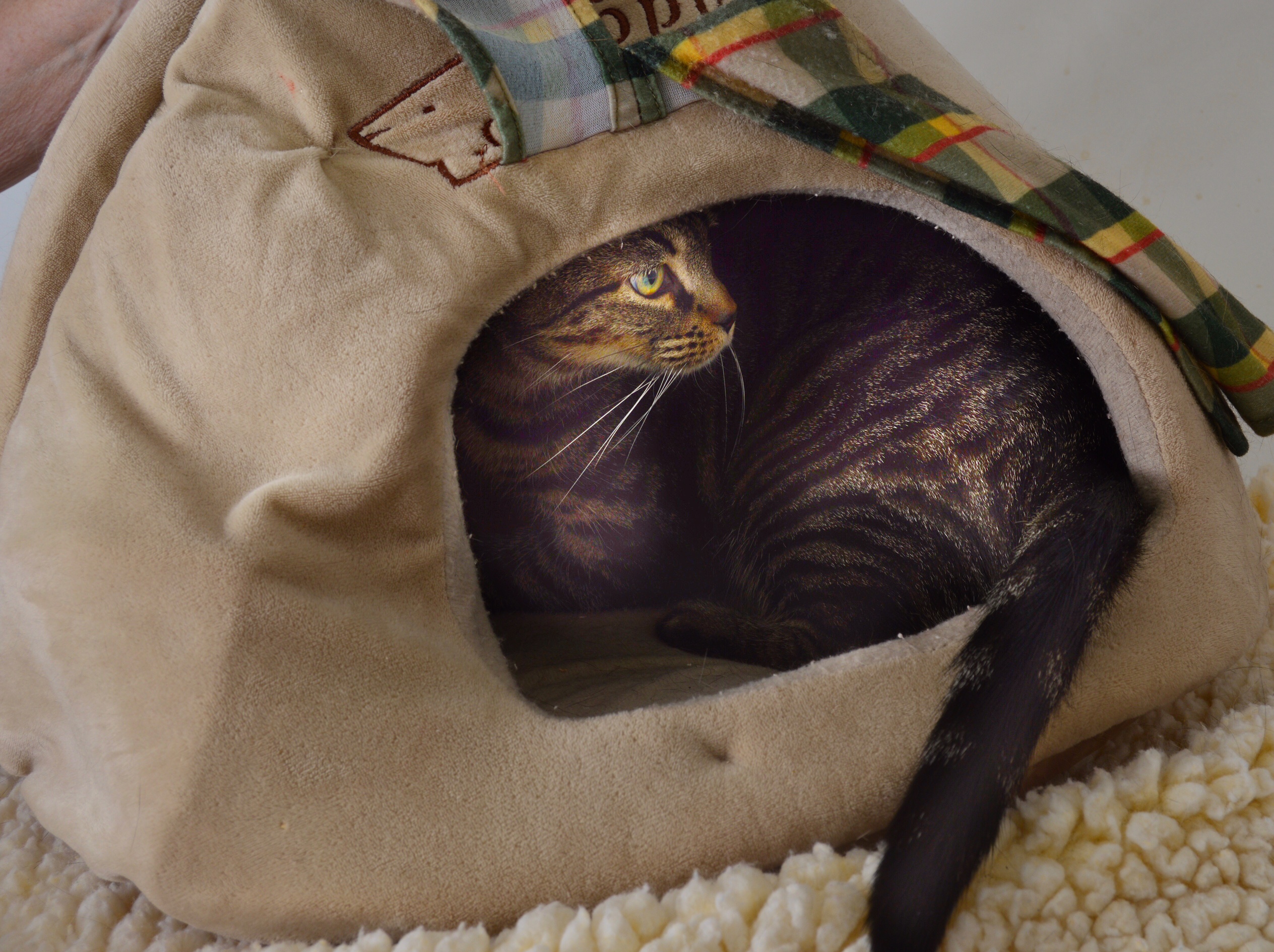 She is super friendly and very sweet and gentle. Pixie loves people and gentle pets. She will be a fabulous companion or family cat and will do well in a home where she will get the love, attention and affection she deserves. Since Pixie is already spayed, she can go home with you right away.
Contact : Calaveras County Animal Services (209) 754-6509 or Kbandy@co.calaveras.ca.us or Animal Services volunteer Cynthia at clpino@caltel.com
Please use Pixie's intake number (A056313) when making inquiries at the shelter.
All cats available for adoption at the Calaveras Animal Shelter are up-to-date on their routine vaccinations and will be microchipped. All unaltered cats and dogs must be spayed or neutered before they can go home with you.
Animal Services now has a Fee Flexibility Program!
When the dog or cat population at the shelter is at 80% or above capacity, the total adoption fee will be 50% off––reduced to $40 for dogs and $30 for cats. The adoption fee for cats who arrive at the shelter already altered will be $10. With the 55-5-5 Program, any time an adopter is 55 or older and adopts any pet over 5 years old, the adoption fee is $5.
Calaveras County Animal Services – 901 Jeff Tuttle Road, San Andreas – (209) 754-6509
Shelter and Office Business Hours are Tuesday – Saturday ~ 10 am – 4 pm
This announcement courtesy of the Friends of Calaveras Animal Services (FOCAS) and The Pine Tree
Watch this space for FOCAS' upcoming community events