Murphys, CA…Just announced, Brad Paisley with Tracy Lawrence and Caylee Hammack will play Ironstone Amphitheatre in Murphy's on August 18, 2022. Tickets go on sale this Friday, April 1st through Ticketmaster.com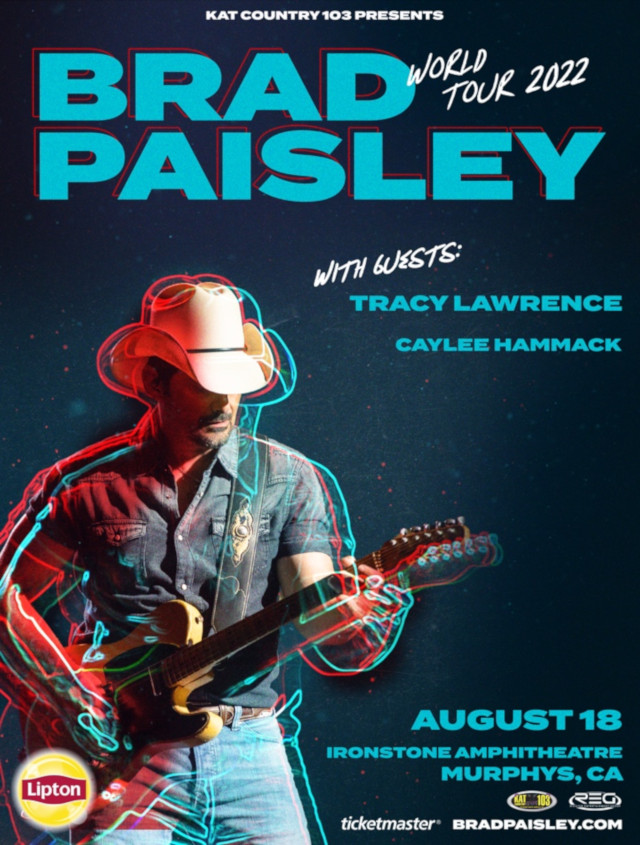 ABOUT BRAD PAISLEY:
Brad Paisley has earned his place in country music history as one of the genre's most talented and decorated male solo artists. Over the past 22 years, his songwriting and unmatched showmanship have won him numerous awards, including three GRAMMYs, two American Music Awards, 15 Academy of Country Music Awards, and 14 Country Music Association Awards including a highly coveted Entertainer of the Year honor and recognition as the most successful CMA Award co-host in history, alongside Carrie Underwood, for 11 consecutive years. A member of the Grand Ole Opry since 2001, Paisley has written 21 of his 24 No. 1 hits, and in 2008 became the first artist to achieve 10 consecutive Billboard Country Airplay No. 1 singles. The global superstar's past works have amassed over 4.8 billion career streams. Forever a prolific entertainer, Paisley's first prime-time special that aired on ABC, Brad Paisley Thinks He's Special, garnered more than 18 million viewers.
 
Paisley's additional endeavors include his new "American Highway" Bourbon, his collaborations with Peyton Manning on the national Nationwide insurance ad campaigns, and his partnership with Boot Barn® to develop "Moonshine Spirit by Brad Paisley," an exclusive line of jeans, hats, T-shirts, jewelry, belts, and woven shirts. Paisley and his wife, Kimberly Williams-Paisley, are co-founders of nonprofit organization The Store, a free-referral based grocery store, which aims to empower low-income individuals and families in the Nashville area. For more information, visit www.thestore.org.
ABOUT TRACY LAWRENCE:
One of several rock-tinged honky tonk singers who rose to fame in the early '90s, Tracy Lawrence has gained a loyal audience for his mix of modern and traditional country sounds. Debuting in 1991 with Sticks and Stones, Lawrence became a linchpin in the neo-traditional country scene after releasing Alibis (1993) and Time Marches On (1996), both certified double-platinum. The ensuing decades saw him land 40 singles on the Billboard Country charts, including the number ones "Can't Break It to My Heart," "My Second Home," and "Find Out Who Your Friends Are." In 2021 he issued the career-spanning triple-LP Hindsight, which was released to coincide with his 30th anniversary as a country singer.
ABOUT CAYLEE HAMMACK:
Since the age of 13, Caylee Hammack has been playing in smoky bars, opry houses, and music festivals around the southeast.  After a medical scare at 16, she started focusing on her writing which eventually led her to Nashville. She started commuting every other week to write with different publishing houses and network as best as a young girl could. She finally made the official move in 2013 and started working full time, writing every morning and singing every night on Broadway to pay her bills. After 3 years in town and being part of the ASCAP's GPS Program, she landed her first Publishing deal with Universal Music Publishing Group and also won the prestigious ASCAP Sammy Chan award. She is now focused is on writing songs for Nashville's A-list artists while also working on her own artist career.
Don't miss Brad Paisley on August 18th at Ironstone Amphitheatre. Tickets on sale this Friday, April 1st at 10am through Ticketmaster.com
###