Murphys, CA…The Murphys Fire District is looking for a 32 hour per week Administrative Assistant. $23-$25/Hr depending on experience. Applications cab be picked up in person at 37 Jones Street, Murphys CA 95247. Full Details are below…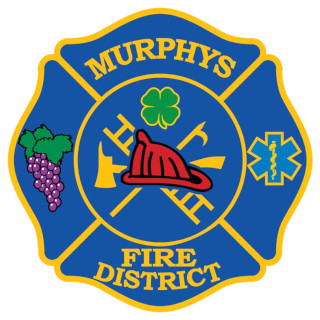 Job Announcement for the position of:
DISTRICT SECRETARY
Wage: $23.00-$25.00 Per Hour
32 Hours Per Week
Benefits: Public Agency Retirement System provided; Dental and Vision plans available. Medical benefits for employee are negotiable. The successful candidate MAY be placed at a higher step on the pay scale based on qualifications and experience.
DISTRICT DESCRIPTION
The Murphys Fire Protection District is an "all risk" emergency services agency, primarily serving the residents of Murphys, Douglas Flat and Vallecito in Calaveras County. The District covers approximately 47 square miles in the Sierra Foothills. The primary administrative station is in the town of Murphys and the main office is open to the public during normal business hours.
SUMMARY JOB DESCRIPTION
Under direction of the Fire Chief, the Secretary plans, organizes and conducts varied and increasingly responsible, complex administrative and confidential activities and performs other such duties as required by the Fire Chief and the Board of Directors. The Secretary performs the duties of General Secretary, Office Manager, Bookkeeper, Receptionist and Board Clerk.
The Secretary composes correspondence on their own initiative on matters not requiring personal attention of the Fire Chief; writes reports and letters; acts as office manager; organizes and files documents; orders supplies as needed; and attends to other administrative details as required.
As the first point of public contact for the District, the Secretary answers the telephone and greets the public in a cheerful, friendly manner, provides routine information, handles complaints and leaves a positive image with members of the public who telephone or visit the Fire District. This is a part-time, "at will" position and is not represented by any MOU or Association/Union. This employment opportunity is NOT an entry level clerical position.
IDENTIFYING CHARACTERISTICS
This position is expected to function with very little direct oversight and a great deal of confidentiality. This position provides administrative support to the District in areas such as budget, personnel, accounts payable/receivable, and payroll.
REPRESENTATION OF DUTIES (BUT NOT LIMITED TO):
• Record and prepare minutes from monthly Board of Directors meeting; compile and send out Board of Directors packets.
• Maintain Board of Directors meeting notebook/binder.
• Keep minutes for staff meetings.
• Write, edit, proofread, and publish correspondence, reports, proposals and other documents.
• Create and maintain spreadsheets and generate weekly, monthly and custom reports.
• Maintain and prepare accounts payable and receivable.
• Maintain and prepare revenue deposits.
• Maintains payroll records including employee evaluations, disciplinary actions, Workers Compensation claims, etc.
• Maintains personnel files and records.
• Maintain personnel leave records.
• Maintain all District Accounts.
• Assist with the Preliminary and Final Fiscal Year budgets.
• Coordinate, prepare and invoice for all strike team assignments for engines and crew.
• Maintain all office machines i.e. copier, fax machine, etc.
• Maintain schedule for classroom.
• Prepares and coordinates postings and distribution of legal notices for public meetings.
• Coordinate annual audit with the District's independent Auditor/CPA.
• Liaison to Calaveras County Auditor's Office.
• Liaison to PARS retirement system.
• Initiates, organizes, maintains and controls access to filing systems and records including highly sensitive files.
• Conducts periodic retention and purging of files in compliance with applicable guidelines.
• Utilizes various computer applications and software packages.
• Maintain purchase order data base.
• Order all office supplies.
• Answer and screen incoming calls; transfer calls and dictate accurate messages.
• Maintain District Website.
• Participates in special projects as assigned.
MINIMUM QUALIFICATIONS: Proof of qualifications must be submitted with application.
• Minimum 18 years of age
• High School Diploma or GED equivalent (provide diploma)
• Valid California Driver License, (provide current DMV printout with license status and any violations)
• Must be a US Citizen or legal resident with permission to work in the United States.
• Typing certification of 50 words per minute
DESIRABLE QUALIFICATIONS:
• Associate or Bachelor Degree in accounting, business, bookkeeping or related field.
KNOWLEDGE OF:
• Basic and advanced accounting and bookkeeping procedures.
• Functions and organization of the fire service, municipal government and Special Districts.
• Work organization principles and practices.
• Modern office procedures, methods, and equipment including computers.
• Computer applications such as word processing, spreadsheets, and accounting programs.
• Principles and practices of fiscal, statistical, and administrative research and report
preparation.
• Principles of business letter writing and report preparation.
• Methods and techniques of public relations and customer service.
• Principles and procedures of record keeping.
• English usage, spelling, grammar and punctuation.
• Pertinent federal, state and county laws, codes and ordinances.
ABILITY TO:
• Understand the organization and operation of the District and of outside agencies as necessary to assume assigned responsibilities.
• Understand, interpret, and apply administrative and district policies and procedures as well as pertinent laws, regulations and ordinances.
• Perform responsible programmatic and administrative duties involving the use of independent judgment and personal initiative.
• Analyze problems, identify alternative solutions, project consequences of proposed
actions and implement recommendations in support of goals.
• Research, compile, analyze and interpret data.
• Compose general correspondence, press releases, letters and reports.
• Accurately type at a speed of 50 words per minute.
• Communicate clearly and concisely, both orally and in writing.
• Establish and maintain effective working relationships with those contacted in the course of work.
• Provide positive customer service to constituents.
• Obtain CPR certification within first year.
PHYSICAL DEMANDS AND WORKING ENVIRONMENT
• Primary functions require sufficient physical ability and mobility to work in an office setting, including standing or sitting for prolonged periods of time, occasionally stoop, bend, kneel, crouch, reach, and twist; lift, carry, push and/or pull light to moderate amounts of weight; operate office equipment requiring repetitive hand movement and fine coordination including use of a computer keyboard; and to verbally communicate to exchange information successfully.
• Work is performed primarily in a standard office environment within an administrative office setting with extensive public contact and constant interruptions.
• Must be able to see within the normal visual range with or without correction
• Must be able to hear within the normal audio range with or without correction.
APPLICATION PROCESS
• Applications are available to be picked up at the Fire District Administrative Office at 37 Jones St., Murphys. A résumé, cover letter and proof of minimum qualifications are required along with the completed application.
• Filing of application, résumé, cover letter and proof of minimum qualifications deadline is Friday July 15th, 2022, at 3:00 P.M. Completed application packets can be mailed to: Murphys Fire Protection District P.O. Box 1260, Murphys, CA 95247. Postmarks will not be accepted. No applications, résumés, cover letters or proof of minimum qualifications will be accepted after the filing deadline. Do not send any mail through the United States Postal Service to the street address – It will be returned to you as undeliverable. It is highly advisable that each candidate personally deliver the completed packet.
• Applicants selected to participate in the testing process will be notified via email or USPS and given further information regarding dates and times of the testing process.
• Tentative test dates will be during the week of August 1st, 2022.
TESTING PROCESS
Oral Interview
• The oral interview will be a series of questions relating to the knowledge, skills and abilities of the applicant to perform the duties of an Administrative Assistant to the Fire Chief.
• Applicants must pass the Oral Interview with an overall score of 80% to advance in the process. The top applicants will be invited to participate in a second interview and writing exercise.
Writing Exercise
• Applicants will be given an exercise to demonstrate their written communication skills using proper grammar and appropriate content.
• Applicants must pass the written exercise with an overall score of 80% to advance in the process.
Excel Exercise
• Applicants will be given an exercise to demonstrate their Excel skills.
• Applicants must pass the Excel exercise with an overall score of 80% to advance in the process.
HIRING PROCESS
After testing has been completed, applicants will receive written notice of eligibility/ineligibility from the Murphys Fire Protection District by mail and email. Eligible candidates will be placed on an eligibility list. The eligibility list will be valid for one year from the date the list is established, with an option to extend the list for an additional year.
The Fire Chief will select candidates from the eligibility list for a Fire Chief's interview and choose a candidate to fill the vacant position. An official offer of employment is contingent upon successfully passing a drug test, medical exam, and background check. After successfully completing this final screening process, the candidate will be required to complete additional employment paperwork and show proof of being able to legally work in the United States.
The Fire Chief will determine the "start date". The tentative hire date is September 15, 2022 with the intent to hire the applicant in a part time training capacity on or about August 15, 2022. There will be a one-year probationary period beginning from their first reportable day at work.