Sonora, CA….On Thursday, June 16th, at approximately 2:00 pm, Tuolumne County Fire/CAL FIRE TCU, Sonora City Fire, Tuolumne County Ambulance, and Tuolumne County Sheriff's Office were dispatched to a residential structure fire in the 19000 block of Serrano Road in Sonora. On arrival firefighters found a residential structure with light smoke showing and reports of multiple dogs trapped inside.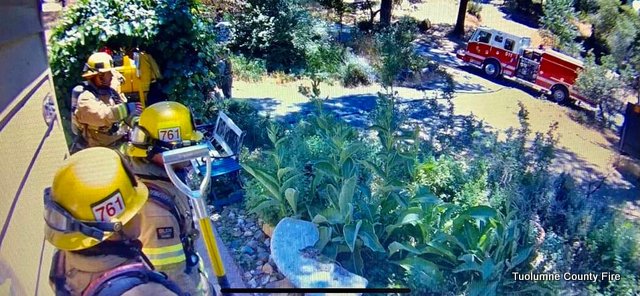 Firefighters quickly made entry to ensure all pets were out of the home. Upon conducting an aggressive primary search for the pets and prevent further fire spread, an unconscious adult male was found in a bedroom where the fire was located. Firefighters rapidly removed the victim and began giving immediate medical treatment for burn injuries and smoke inhalation.
Tuolumne County Ambulance arrived and began advanced life support and transported the patient to Sonora Adventist Hospital from where he was later flown to a burn/trauma center for further treatment for the approximately 30% 2nd and 3rd degree burns. Both dogs were found and had no injuries. Approximately 80% of the home and contents were salvaged and the fire was determined to be accidental.
Source = Tuolumne County Fire