San Andreas, CA… Meet MARILYN (A054998) and PISTOL (A054996), two adorable older kittens who were raised by a foster mom since they were orphaned at three weeks old. They are super sweet, gentle, playful and loving.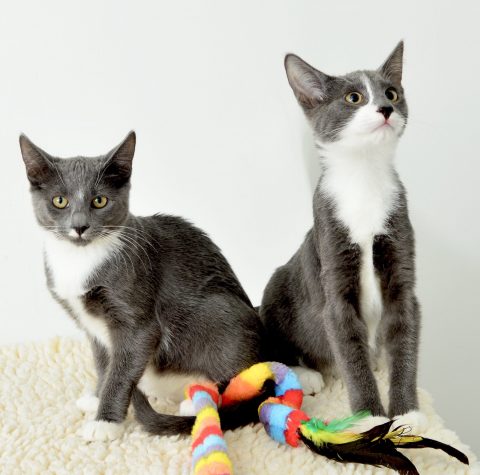 Marilyn, with the mostly gray face, had a birthmark on her lip just like Marilyn Monroe. Pistol, with the gray and white face, got his name because he spit and growled the first two days while hiding behind his sisters. These kittens are extremely bonded to one another and must be adopted together.
Once they know a human they trust, they love to be held like a baby on their back and have their tummies rubbed. Marilyn is the more confident kitty and adjusts more easily to new situations. Pistol is a bit shy and looks to Marilyn to make the first move. Once Marilyn is comfortable with someone, then Pistol steps forward for attention. Since they haven't had a mother from three weeks of age, they don't know to "cat." They only know confined spaces, love, full bellies and soft toys and must be kept indoors only because they would never survive outdoors. They are waiting for a home that will shower love on these two precious kittens the way our Animal Services volunteers have.
Please use these intake numbers when making inquiries at the shelter:
MARILYN (A054998) ~ PISTOL (A054996)
All cats and dogs available for adoption at the Calaveras Animal Shelter are up-to-date on their routine vaccinations and will be microchipped. All unaltered animals must be spayed or neutered before they can go home with you.
Animal Services now has a Fee Flexibility Program!
When the dog or cat population at the shelter is at 80% or above capacity, the total adoption fee will be 50% off––reduced to $40 for dogs and $30 for cats. The adoption fee for cats who arrive at the shelter already altered will be $10. With the 55-5-5 Program, any time an adopter is 55 or older and adopts any pet over 5 years old, the adoption fee is $5.
For more information about Marilyn and Pistol, please email Animal Services volunteer Cynthia at clpino@caltel.com, Kathy at Kbandy@co.calaveras.ca.us or call Animal Services directly at (209) 754-6509
**************************************************************************************************************
Calaveras County Animal Services – 901 Jeff Tuttle Road, San Andreas – (209) 754-6509
Shelter and Office Business Hours are Tuesday – Saturday ~ 10 am – 1 pm & 2 – 3:30 pm ~ Closed for lunch from 1 – 2 pm
This announcement courtesy of the Friends of Calaveras Animal Services (FOCAS) and The Pinetree