Frogtown, CA… Miss Rodeo California Swing Dance Shootout & Dinner at Calaveras County Fair & Jumping Frog Jubilee on Sat, March 4, 2023, from 5:00 PM – 10:00 PM! Enjoy swing dance lessons, a delicious Italian dinner, a dance competition, a raffle and auction all at this Swing Dance Shootout!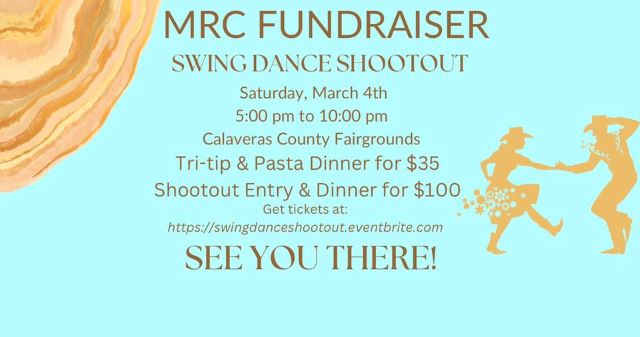 This event is a fundraiser to help support McKensey through out her year as Miss Rodeo California 2023! Come show your support and dance the night away at this Swing Dance Shootout!
Doors Open at 5:00 pm
Free Swing Dance Lessons from 5:30 to 7pm
Dinner at 6:30
Swing Dance Shootout Competition 7:30 to 8:30 pm
Open Dance Floor 9pm
https://l.facebook.com/l.php?u=https%3A%2F%2Fwww.eventbrite.com%2Fe%2Fmiss-rodeo-california-swing-dance-shootout-tickets-499343368457%3Ffbclid%3DIwAR1dnsOgapYoFZ2CYJP_otRDoWZb7vJ5uFJNDi5fEMsqKACMPFBuGCZEBAo&h=AT1rbm-BkxezpMvXOgMIc4Csgct-EaXA5GhB2Eg6rYZAEoxBaMIVaeQosXNx35L8byEm9wO0D30N5vYsloyYWTu4KVqWIzFvPDJr1FDeg5-VHWb9GCO3-NXk1vGtmbcEHBYn5l17ArJ_QpBQ4uFEJQ
General Admission: $35.00 – One Dinner Ticket
(Sales end on Mar 4, 2023)
Swing Dance Shootout Entry & Dinner for two: $100
(Sales end on Feb 24, 2023)
All night enjoy shopping amazing raffle and auction items!
Refunds up to 7 days before event
Eventbrite's fee is nonrefundable.
Event occurs on 03/04/2023 from 05:00 PM to 10:00 PM.