Calaveritas, CA…Don Cuneo: March 27, 1924 – April 25, 2023. A great man and friend to us all, passed from this earth on April 25, 2023. Born at home in Calaveritas, California, on March 27, 1924; Don Maddock Cuneo passed peacefully in his home at the age of 99. Don was the fourth of five children born to Victor and Rose Cuneo. His grandparents were well-known pioneer families of Calaveras County. The Costa and Cuneo families came to California from Genoa, Italy, in 1852 at the height of the Gold Rush.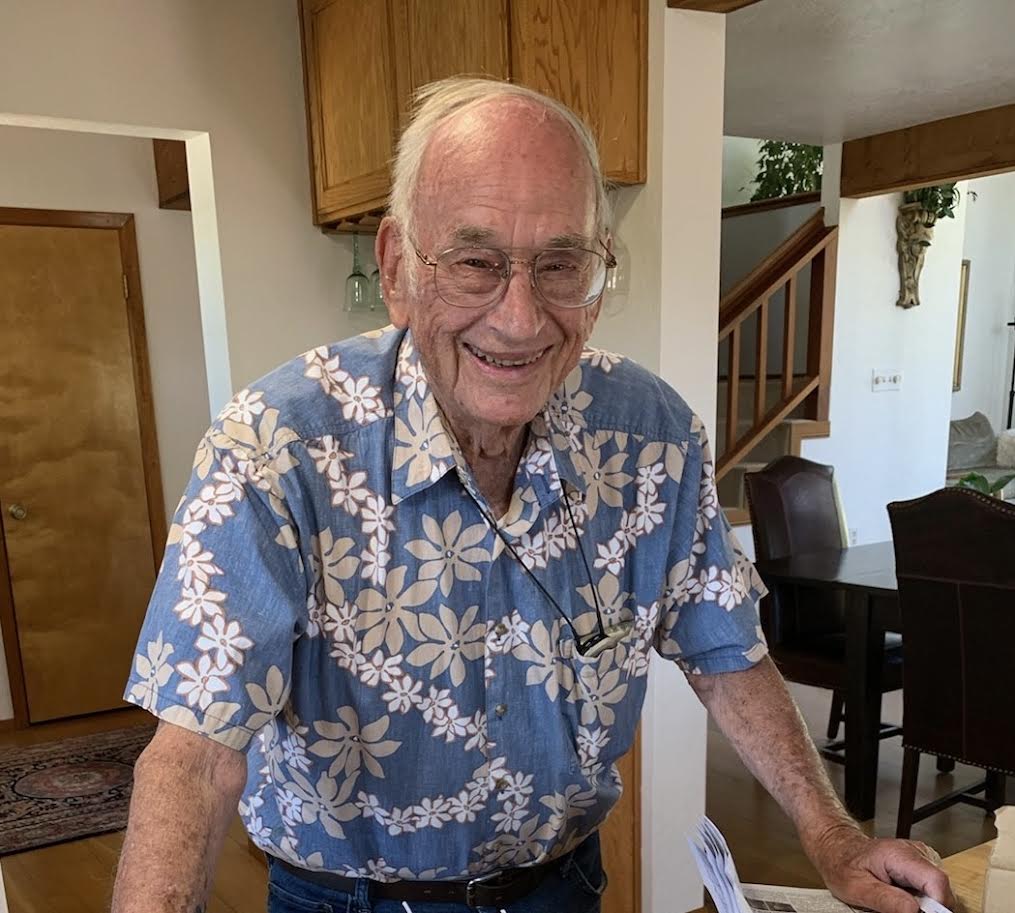 A lifelong resident of Calaveras County, Don embraced his natural leadership qualities when he was elected Student Body President of Calaveras High School, 1941-42. Immediately after graduating, Don enlisted in the U.S. Navy to fight in World War II. He served honorably in the South Pacific as a Fire controlmen (FC) operating 20 and 40 mm canons along with deployment of depth charges on submarine patrol aboard the USS McCord and USS Columbus from 1943-1945.
After returning home from the Navy, he successfully owned and operated butcher shops from 1945 to 1964. For the next 38 years he owned and operated the Black Bart Inn, retiring in 2002.In 1952, at the age of 28, he was elected to the Calaveras County Board of Supervisors, the youngest man to be elected at that time. He went on to serve four more consecutive terms and rose to become the Board of Supervisors Chairman in 1964.
Throughout his life, Don was a visible and active community leader. In 1975, he was appointed Honorary Mayor of San Andreas by the Board of Supervisors. He went on to receive countless awards, chairmanships, and titles. He worked tirelessly, fundraising and cooking for political, community, and many humanitarian causes.
Don loved traveling the open road in his travel trailer. He ventured to Alaska, Baja, and numerous Western states. In his later years, his love for adventure took him and his wife, Althea, to many exotic locations throughout the world.
He is preceded in death by his wife Althea Cuneo, daughter Melisa Cuneo, stepson Bob Walsh, brothers Fred and Vern Cuneo, and sisters Louise Greenlaw and Gladys Rogers. Don is survived by his daughters Melanie and Mitzi Cuneo, his beloved stepchildren Terry Porray, Lori Hair, Kelly Walsh, and Lani Foster along with their families.
Affectionately known as "Poppa" he leaves three grandchildren, Mia Thayer, Dylan Cuneo, and Dante Cuneo, four great grandchildren and three great, great grandchildren.
A celebration of Don's life will be held Saturday, May 27th from 12-3 pm at Calaveras High School's Flock Gymnasium in San Andreas, CA. Immediately following, a more intimate ceremony will be held at the VFW Post 2600 in San Andreas.