Angels Camp, CA…Susan Elliott-Lawson (October 23, 1962-September 28, 2023) Susan was a ray of light in many people's eyes, most known around Coeur d'Alene, ID as the owner of Babies and Beyond children's store for over 20 years. She gave to many what she could and brought laughter to everyone she met. Susan Mil Elliott-Lawon (60), of Coeur d'Alene, ID, passed away in Angels Camp, CA on September 28, 2023.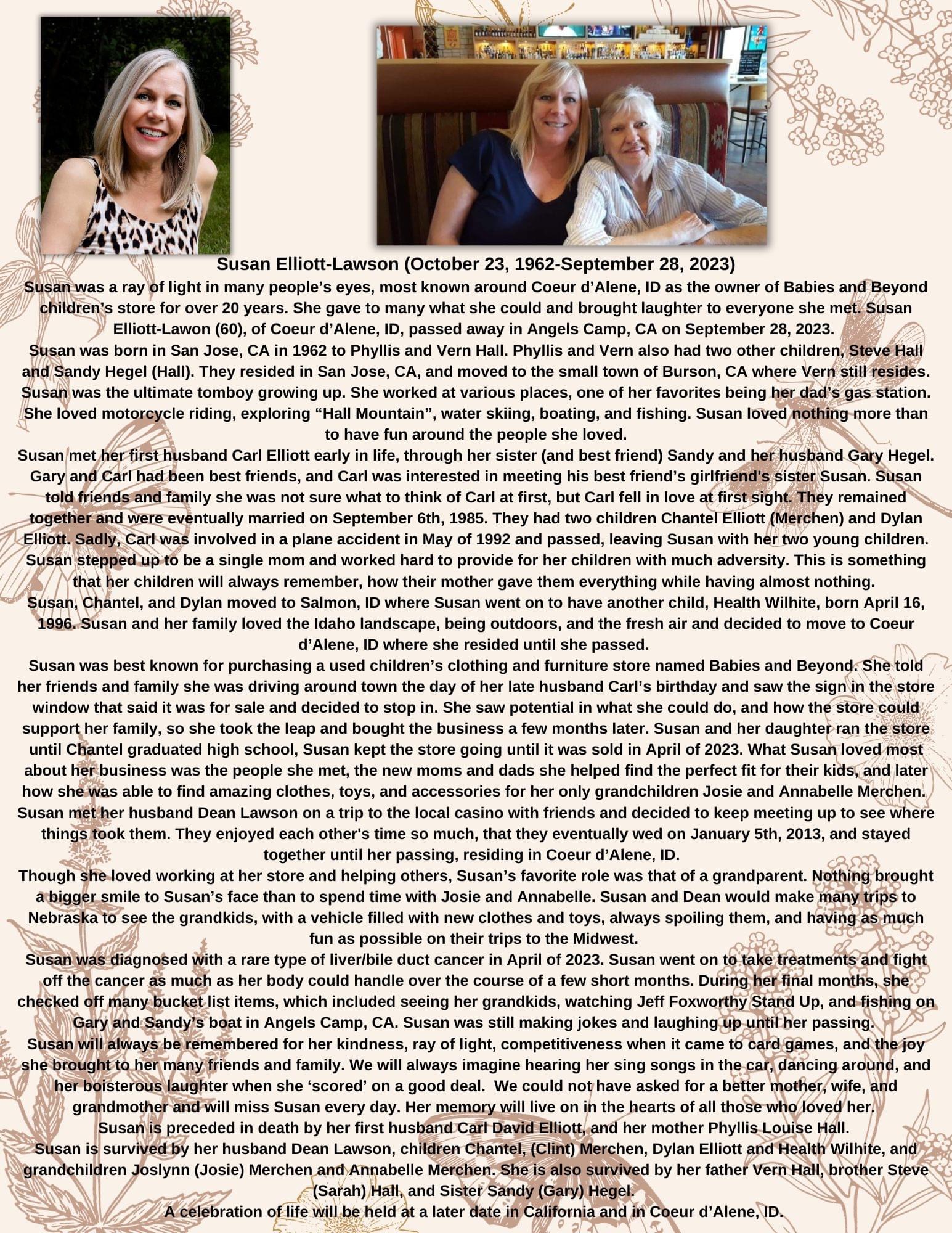 Susan was born in San Jose, CA in 1962 to Phyllis and Vern Hall. Phyllis and Vern also had two other children, Steve Hall and Sandy Hegel (Hall). They resided in San Jose, CA, and moved to the small town of Burson, CA where Vern still resides. Susan was the ultimate tomboy growing up. She worked at various places, one of her favorites being her dad's gas station. She loved motorcycle riding, exploring "Hall Mountain", water skiing, boating, and fishing. Susan loved nothing more than to have fun around the people she loved. /; Susan met her first husband Carl Elliott early in life, through her sister (and best friend) Sandy and her husband Gary Hegel. Gary, and Carl had been best friends, and Carl was interested in meeting his best friend's girlfriend's sister Susan. Susan told friends and family she was not sure what to think of Carl at first, but Carl fell in love at first sight. They remained together and were-eventually married on September 6th, 1985. They had two children Chantel Elliott (Merchen) and Dylan Elliott. Sadly, Carl was involved in a plane accident in May of 1992 and passed, leaving Susan with her two young children. Susan stepped up to be a single mom and worked hard to provide for her children with much adversity. This is something that her children will always remember, how their mother gave them everything while having almost nothing. .1 Susan, Chantel, and Dylan moved to Salmon, ID where Susan went on to have another child, Health Wilhite, born April 16, 1996. Susan and her family loved the Idaho landscape, being outdoors, and the fresh air and decided to move to Coeur d'Alene, ID where she resided until she passed.
Susan was best known for purchasing a used children's clothing and furniture store named Babies and Beyond: She told her friends and family she was driving around town the day of her late husband Carl's birthday and saw the sign in the store window that said it was for sale and decided to stop in. She saw potential in what she could do, and how the store could support her family, so she took the leap and bought the business a few months later. Susan and her daughter ran the store until Chantel graduated high school, Susan kept the store going until it was sold in April of 2023. What Susan loved most about her business was the people she met, the new moms and dads she helped find the perfect fit for their kids and later how she was able to find amazing clothes, toys, and accessories for her only grandchildren Josie and Annabelle Merchen. Susan met her husband Dean Lawson on a trip to the local casino with friends and decided to keep meeting up to see where things took them. They enjoyed each other's time so much, that they eventually wed on January 5th, 2013, and stayed together until her passing, residing in Coeur d'Alene, ID.
Though she loved working at her store and helping others, Susan's favorite role was that of a grandparent. Nothing brought a bigger smile to Susan's face than to spend time with Josie and Annabelle. Susan and Dean would make many trips to Nebraska to see the grandkids, with a vehicle filled with new clothes and toys, always spoiling them, and having as much II fun as possible on their trips to the Midwest.
Susan was diagnosed with a rare type of liver/bile duct cancer in April of 2023. Susan went on to take treatments and fight off the cancer as much as her body could handle over the course of a few short months. During her final months, she -)`) checked off many bucket list items, which included seeing her grandkids, watching Jeff Foxworthy Stand Up, and fishing on Gary and Sandy's boat in Angels Camp, CA. Susan was still making jokes and laughing up until her passing.
Susan will always be remembered for her kindness, ray of light, competitiveness when it came to card games, and the joy she brought to her many friends and family. We will always imagine hearing her sing songs in the car, dancing aro4d, and her boisterous laughter when she 'scored' on a good deal. We could not have asked for a better mottle, wife, and and Health Wilhite, and n" grandmother and will miss Susan every day. Her memory will live on in the hearts of all those who loved her), Susan is preceded in death by her first husband Carl David Elliott, and her mother Phyllis Louise Hall. Susan is survived by her husband Dean Lawson, children Chantel, (Clint) Merchen, Dylan Elliott grandchildren Joslynn (Josie) Merchen and Annabelle Merchen. She is also survived by her father Vern Hall, brother Steve (Sarah) Hall and Sister Sandy (Gary) Hegel. A celebration of life will be held t a later date in California and in Coeur d'Alene, ID.