San Andreas, CA…After 28 years of dedicated service to the citizens of Calaveras County, Undersheriff Jim Macedo will be retiring on October 7, 2022. Undersheriff Macedo has either worked in, supervised, or managed every division, unit, and team in the Sheriff's Office during his career. With the unfortunate death of Sheriff Gary Kuntz, Jim Macedo was our acting Sheriff from October 2015 to June 2016 until the appointment of our current Sheriff Rick DiBasilio. The members of the Sheriff's Office would like to wish him a well-deserved and hard-earned retirement.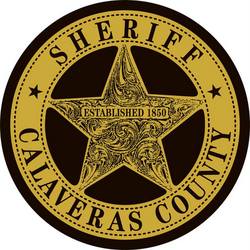 Sheriff Rick DiBasilio is pleased to announce that on October 8, 2022 Captain Rachelle Whiting will be appointed to Undersheriff to fill the position from Jim Macedo's retirement. Rachelle Whiting has been with the Sheriff's Office for 22 years. She graduated from Calaveras High School and San Diego State University. Whiting started working in law enforcement as a Community Service Officer for the SDSU Police Department. She returned to Calaveras County and started her employment for the Calaveras County Sheriff's Office in the jail as a Correctional Officer.
Whiting was sponsored by our agency through the Modesto Police Academy. Whiting worked within the Patrol Division as a Deputy Sheriff. Upon her promotion to Corporal, she worked as a Detective and as a Field Training Officer. She has held a number of special assignments and teams over the years including Bike Team, SCUBA Dive Recovery Team, and being a Hostage Negotiator for 18 years. Whiting established the Peer Support Program within the Sheriff's Office, which provides support to employees. Whiting promoted to Sergeant in 2007. As a Sergeant she held numerous supervisorial positions including Dispatch supervisor, OES Coordinator, Detective and Narcotics Sergeant, Department PIO, and Administrative Sergeant.
When she promoted to Lieutenant, Whiting transferred to our Custody Bureau and worked several years as a Jail Commander. She then transferred back to Operations as our Patrol Division Commander until her promotion to Captain where she has been most recently working as our Operations Bureau Commander. Whiting is a graduate of the POST Supervisor Leadership Institute. Over the years, she has received several awards and commendations from the Sheriff's Office including Deputy Sheriff of the Year, Campaign Ribbons, Unit Citations, and Medals of Merit commendations.