Murphys, CA…The 15th annual Klassen Klassic Turkey Trot is dedicated to CT Tutthill, a lifetime Murphys resident and Bret Harte High graduate.  The Tutthill and Boynton families have brought the biggest family cohort to the Turkey Trot since its inception; almost thirty family members partake by walking, running or in CT's case, by co-hosting the not-so-secret Blood Mary bar and breakfast buffet.  CT was killed in a car accident early this year.
Pictured above Bradey, Sara, CT, Makenna Tutthill
Pictured above CT Tutthill, Jim Hereford, Brian Klassen, Tommy Tutthill,  Jimmy Triolo.  The non-official KKTT Officials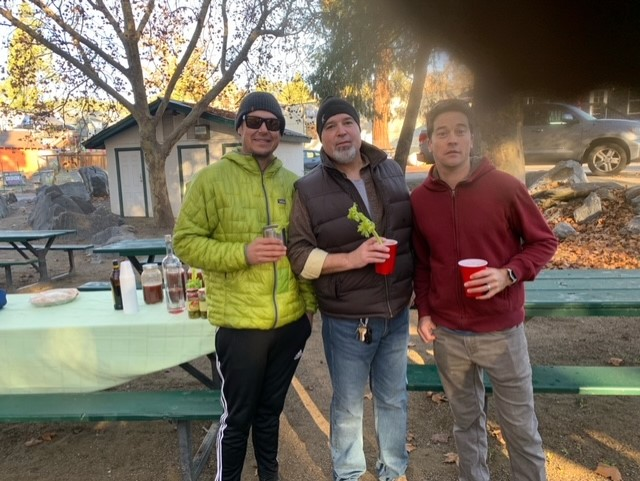 PIctured above CT Tutthill, Craig MacDonald, Jason Smith "The KKTT Bartenders"
#BeMoreLikeCT is this year's theme for the Turkey Trot, in his honor. Funds raised will be used to set up a nonprofit for the youth of Calaveras county. CT's wife and high school sweetheart, Sara Tutthill, is working with the Calaveras Community Foundation to set up the parameters. "The committee wants to find kids who embody the spirit of CT, hardworking, high integrity, compassion and dedication to family. He also never missed a chance to make someone smile." commented Sara Tutthill.
Brian and Sally Klassen chose to honor CT because of his commitment to the event and to his community. "#BeMoreLikeCT is a reminder for all of us to live like CT. He lived life to its fullest in every moment and never knew a stranger," commented Brian Klassen.
CT loved Thanksgiving as it was when the entire family came to town, after the Turkey Trot the Tutthills hosted not just family, but friends as well, sometimes more than 50 people gathered at the Tutthill's Murphys' home where CT oversaw the roasting of the turkey and as always, making everyone feel special.
His wife Sara, children Bradey and Makenna, parents Suki and Tommy Tutthill will continue the tradition this year.
The Klassen Klassic Turkey Trot started in 2007 when Brian Klassen and a few friends gathered at Murphys Park to get in a pre-meal run. Sara Tutthill was among them. In 15 years it has collected tons of food for local charities and donated tens of thousands of dollars to local families.
The race/walk is non-sanctioned. But there are prizes for top finishers. It is held at Murphys Park, doors open at 8 am and the race/walk starts at 9:00am. Non-perishable food items are requested as an entry fee. No registration is required, unless participants are vying for top spots. T-shirts are sponsored by local businesses and can be purchases at the race. $25 for one or $40 for two.