Angels Camp, CA…On March 26, 2023, at approximately 1609 hours, the California Highway Patrol was dispatched to a major injury collision on SR 49 south of Deer Creek Road. Cooper was driving a Ford F-150), northbound on SR-49 at an unknown speed. Webster was driving a Ford Escape southbound on SR 49. As the F150 and Escape were approaching each other, the pickup drove onto the right shoulder into the dirt. the driver lost control of of the Ford and drove across the northbound lane and into the southbound lane directly in front of the Escape. The front of front of the Escape collided with the right side of the pickup, and the F150 drove off the west side of the roadway and overturned. The Escape came to rest facing a westerly direction, in the southbound lane.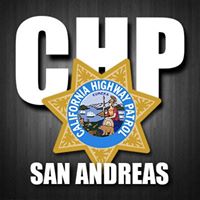 It was determined P-1 was driving under the influence of alcohol at time of the collision and was arrested for 23153(a) V.C. P-1 was transported to Doctor's Memorial Center in Modesto CA for medical care. The collision is still under investigation.
Additional Passenger (Party #1): [MINOR-17 years old]/ Angels Camp, CA/ 2006 Ford F-150/ Doctors Medical Center/ Not arrested.